No doubt Ubuntu is the best Linux distro for beginners. So many Linux beginners prefer to dual boot Windows 10 and Ubuntu , instead of completely removing Windows.
Here in this tutorial you will learn how to install linux and windows alongside on a UEFI based system with GPT partition table.
This tutorial is specially for UEFI based systems, you don't need to disable UEFI secure boot or enable the legacy boot support.
We'll assume that Windows 10 is pre-installed on the computer. The hard disk partition type, i.e. GPT or MBR doesn't matter much.
Get Ubuntu and Create the bootable USB
As you're going to install Ubuntu, so first you need to get the ISO file, get it from the official ubuntu website, link here.
After downloading the Ububtu ISO, you need to create a bootable USB to install from it.
There's many way to do that, in windows 10, you can use the Rufus USB creator, download Rufus from here.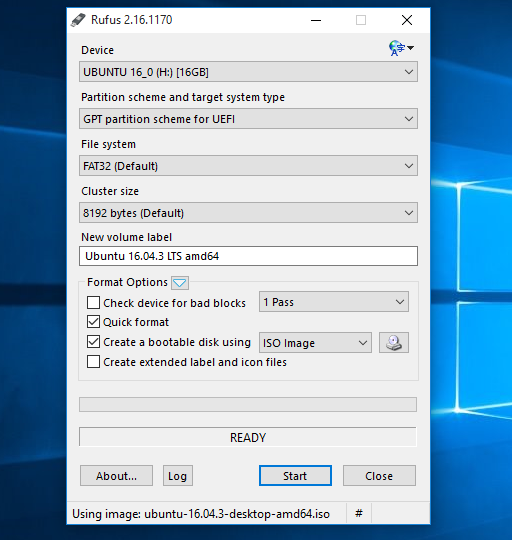 Alternatively you can use MultibootUSB tool from here.
Analyze the system
Although this step is optional, but it's to know your system before altering anything. First check the hard disk partition type.
You can use the diskpart command on windows to check the HDD, first open up the CMD as administrator and type the command below one by one.
diskpart

list disk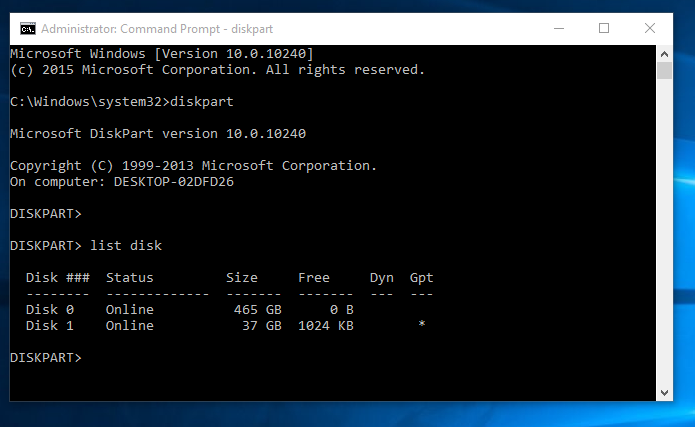 If your HDD has GPT partition table by default, then almost certainly it's a UEFI system.
Partition the disk on windows 10
You need to free up some HDD space to dual boot ubuntu and windows 10 , at least 6 GB is required to install.
However you can go with 8 GB, but about 20 GB for the linux filesystem root / partition is highly recommended.
You can install Ubuntu without a dedicated /home partition, but it's always recommended to use a separate home.
Most probably you don't need a swap partition, as there's plenty of RAM on any modern system, swap space is rarely used. If you desperately need a swap space, you can you a swap file instead.
Let's partition the disk,
First open up the Disk Management tool from the settings application.
Select the hard drive partition you want to shrink. As example, if your C drive has enough free space, then select it.
Shrink the volume to desired size, anything between 10 GB to 100 GB should be enough.
I'm using a 40 GB HDD for testing, and there's around 12.7 GB free space to dual boot windows 10 and ubuntu.
Reboot the computer and boot from USB
Now reboot the PC and boot it from the USB drive. You need to tap the F12 , F10 or F8 key many times to select the boot device.
On Dell, Acer, Lenovo or Toshiba laptops, it's the F12 key in most cases.
Note: On many laptops with the Fn key, you need to press Fn + F12 key combo to select the boot device option.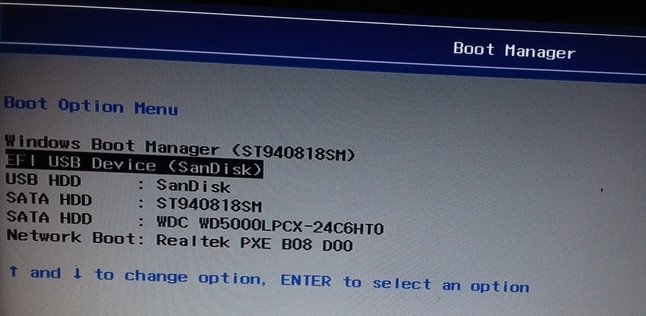 You can select any of the Try Ubuntu without installing or Install Ubuntu on the GRUB boot menu entry.
Dual boot windows 10 and Ubuntu
If you've not selected the first option, then just click on the Install Ubuntu shortcut on the desktop, else the system will start the installer directly.
There's 7 total step, excluding the sub steps and disk partitioning  to install Ubuntu.
The first step is to select the language, choose your preferred language and press the continue button.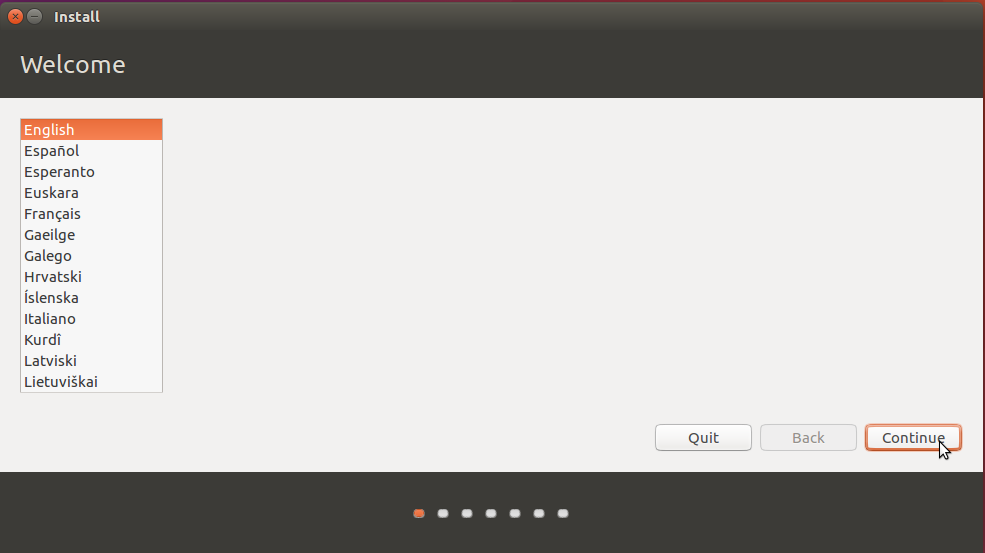 Next you'll be asked to connect to internet if not connected, this step is optional, you can skip this step by selecting the first ubuntu install option.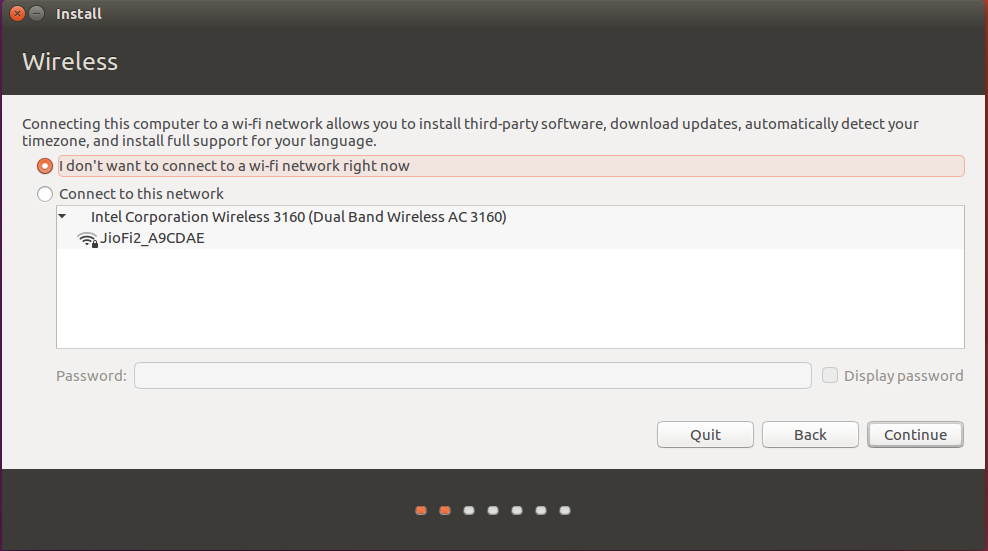 Now the installer will ask you to install the updates and third party software like graphics drivers or multimedia codecs. You can skip this step as well, just press Continue.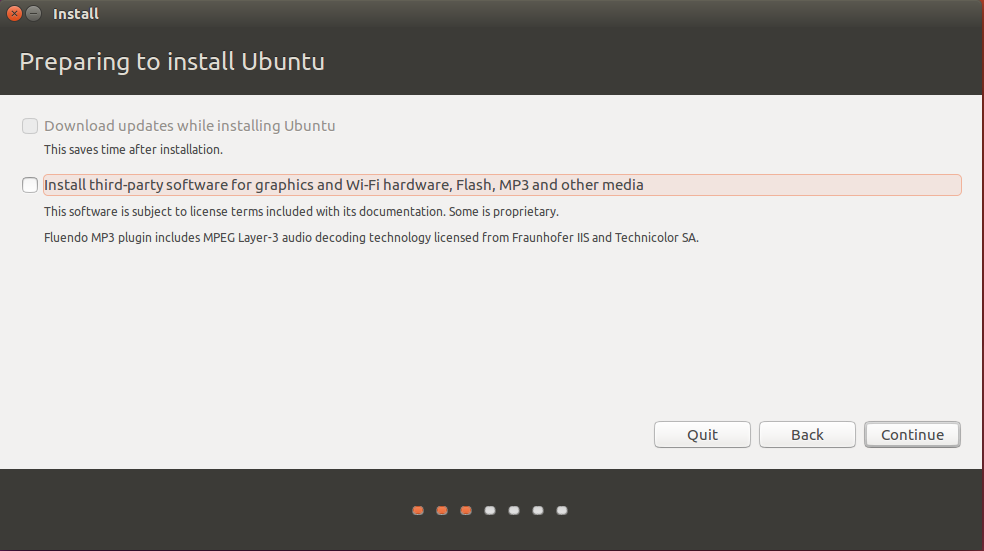 The next step is Installation type, important to dual boot windows 10 and ubuntu . As the PC already has windows 10, you must select the Something else option, highlighted on the screen shot below.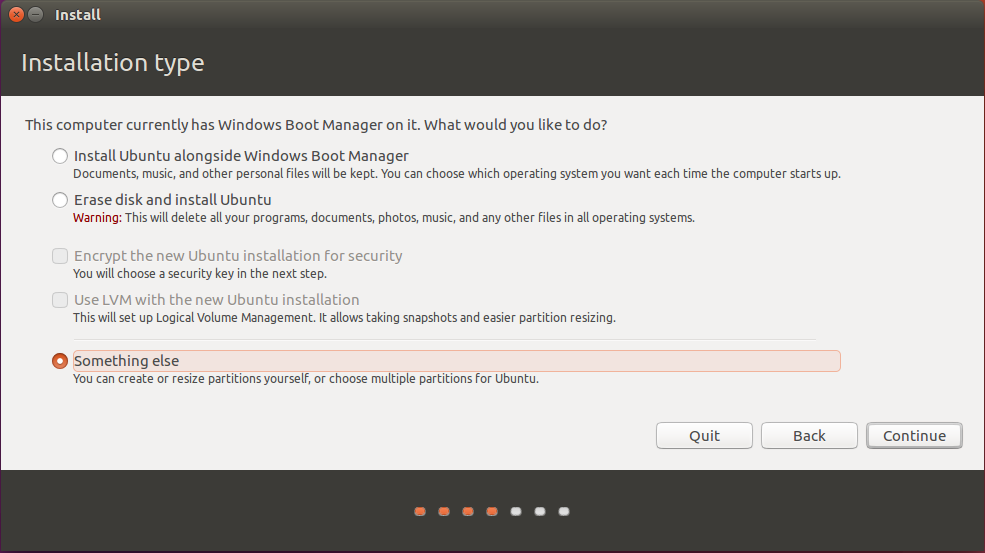 Now you have to partition the hard disk for installation, that's the most important step. You must be very careful, you could lose important data if anything goes wrong. First select the proper HDD to partition and device to install the boot loader. In my case it's /dev/sdb , as there's two HDD in my laptop.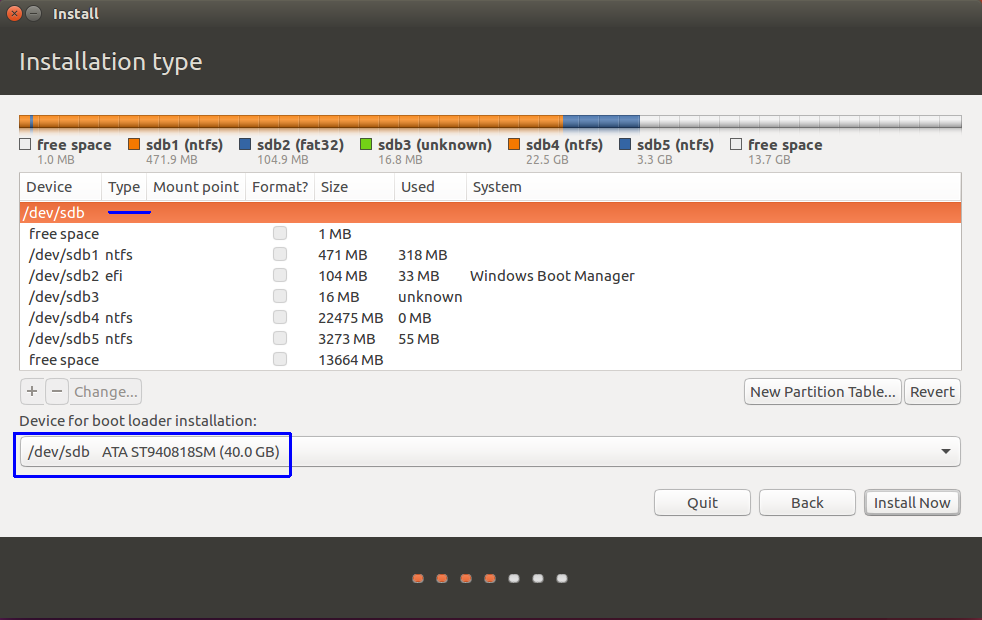 After selecting the proper HDD, you've to the select the free space to create the /root partition. Press the + button to create a a new disk partition. I'm creating a 8 GB root partition, which is 8192 MB.
Now you've to create the home partition just like above, but the mount point will be /home this time, assign all the free space available to that partition.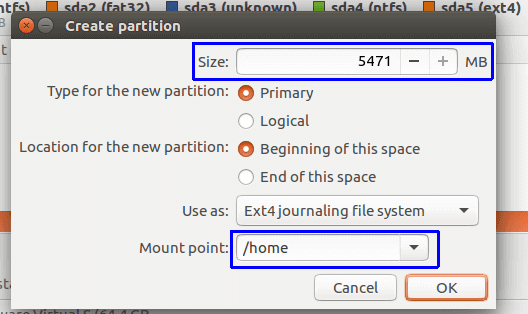 How the final partitioned disk looks like, a screenshot below.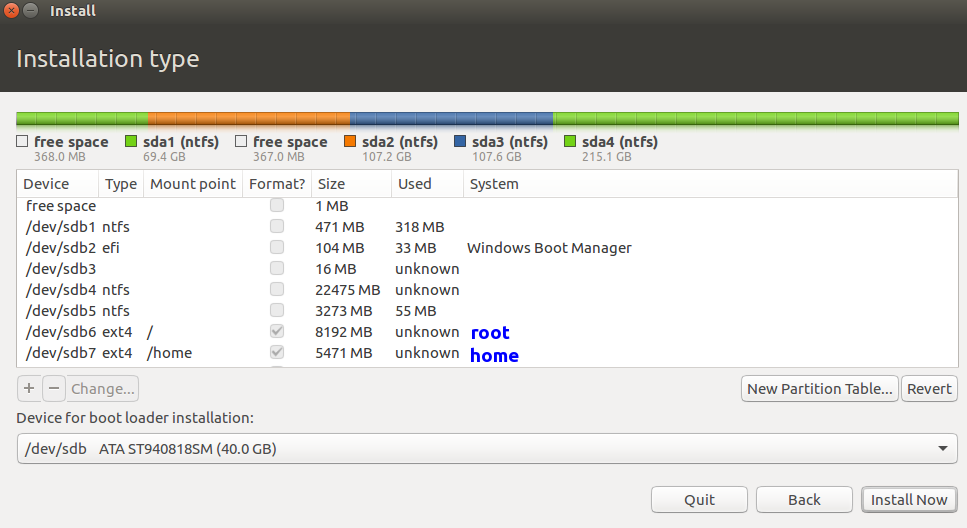 Next the installer will ask you, Do you want to return to the partitioning menu? Of course you don't, just press continue button.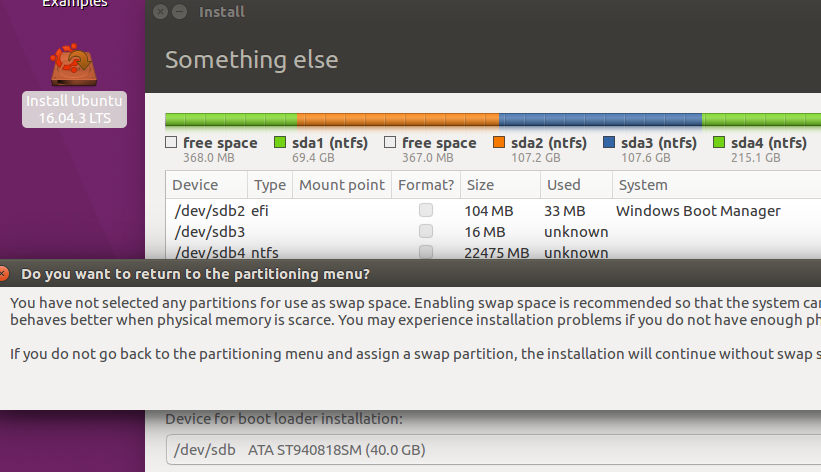 The ubuntu installer will ask you again, Write the changes to the disk? Ironically you have to, just press the continue button again.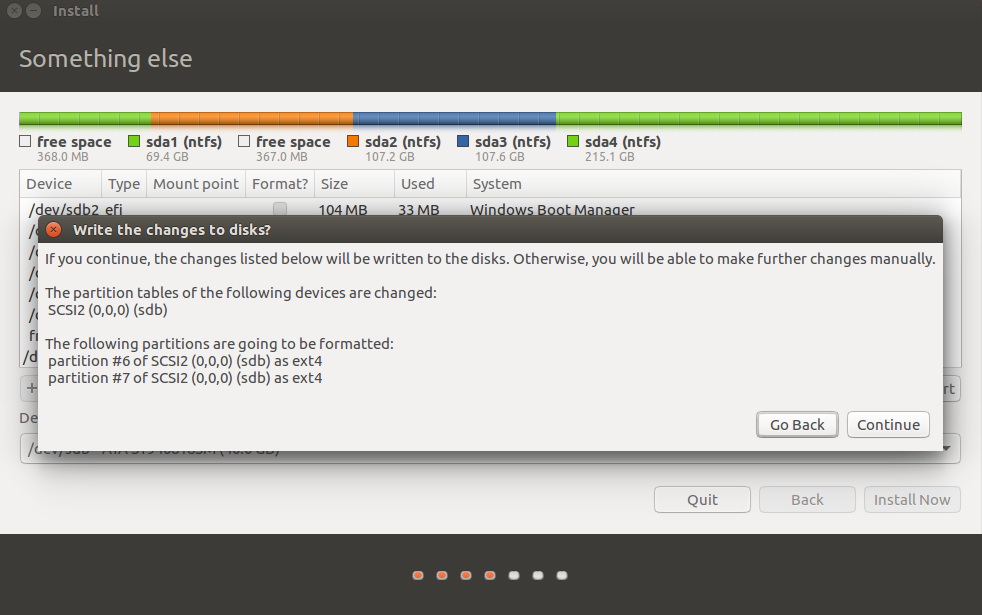 Next you've to fill some basic information about you and your computer name, password and so on, a screenshot below.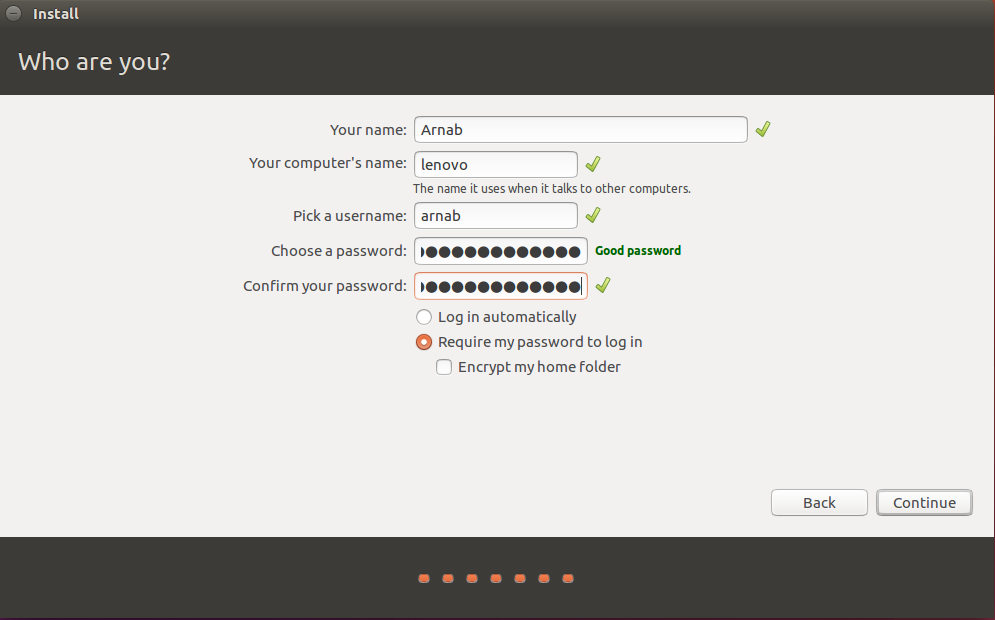 Tip: You might want to change Your computer's name to something shorter than the default one and choose a long password with special characters. If you're a linux beginner then you might not want to encrypt home folder right now.
You have to press the Continue button again, and you're almost done. The installation process will take some time, between 10 to 20 minute, till then watch the slide show.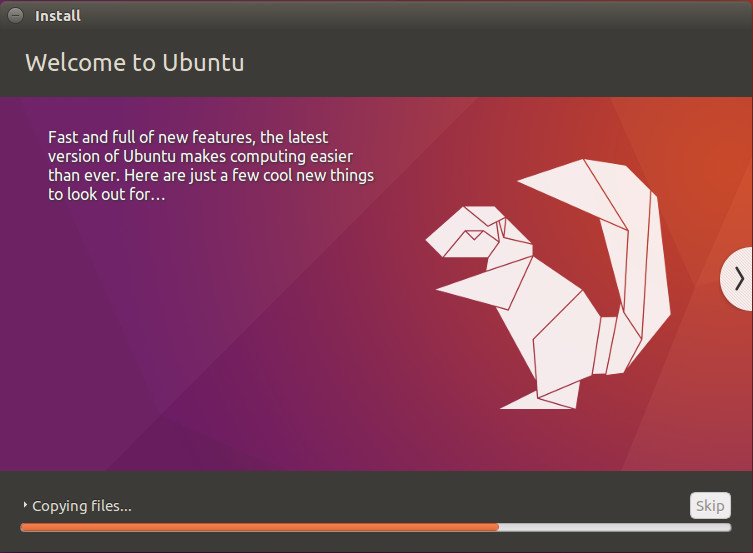 If everything was done properly, then you'll be asked to reboot your computer.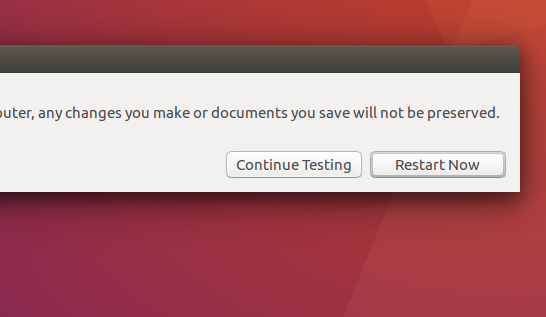 Reboot now and draw out the installation USB drive right after seeing the OEM logo on the screen.
Testing the new dual boot Ubuntu installation
After rebooting, you can see the GRUB boot menu, listing Ubuntu and windows.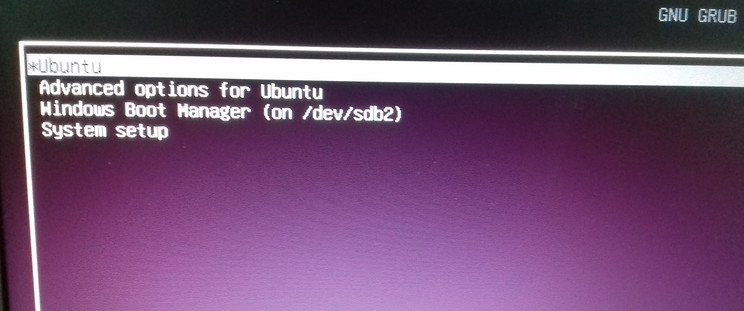 You should be able dual boot windows 10 and ubuntu without any problem from the grub menu.
So, that's all how you can dual boot ubuntu, hope that's simple enough to understand. I'll be soon making a video about dual booting stay tuned.
If you have any question or suggestion, please feel free to ask or suggest through the comments.