Here's how you can create a lightweight web server on Linux easily to test some code, serve static HTML files or whatever you like.
There's no need of a full blown web server like Apache or NGINX, just few lines of basic command will be fine to do this job. Lets do it in 5 different ways !
Instant python web server
Python is pre-installed in almost every UNIX or GNU/Linux distributions, packs many feature reach modules inside it. Python commands could be used as an web server very easily.
For r python 2.7.x versions use this command.
python -m SimpleHTTPServer port_number
Replace the port_number with port number of your choice.
python -m SimpleHTTPServer 8080
To start a python web server on port 8080, by default it binds port 8000 with all available network interfaces.
Note: Binding any port number bellow 1024 requires root privilege, in such case use sudo before the command . If there is a index.html file at that directory, it will be served by default, else contents of that directory will be served.
For python 3.x version use this command.
python3 -m http.server
test: Open up your favorite web browser, type 127.0.01:8000 in the URL bar and hit enter.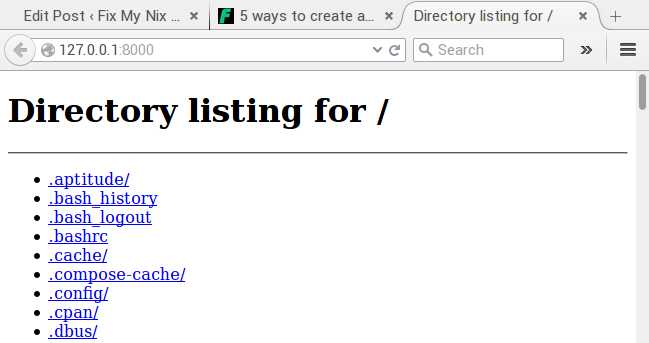 You can use the --bind or -b option to run the web server on a specific network interface, or even use it to bind with IPv6 address. as an example-
python3 -m http.server --bind ::
That's an example of using python's internel http.server module to serve few web pages, here :: denotes the IPv6 localhost. You can also define a specific IPv4 or IPv6 address and port, example below.
python3 -m http.server -b 2603:4900:3bd0::786:bbad:1e5d 8080
Here 2603:4900:3bd0::786:bbad:1e5d is an example IPv6 address and 8080 is the desired port.
Busybox httpd web server
Busybox, The Swiss Army knife of Embedded Linux, packs many stripped-down UNIX tools inside a single static executable binary. It runs on most UNIX/Linux systems and pre installed in all Debian based distributions.
Busybox have an awesome feature rich HTTP server applet, busybox httpd , very simple and lightweight but also configurable enough. Download latest busybox and read more about here.
busybox httpd --help # show available options
busybox httpd -p 127.0.0.1:8080 -h /var/www/  # start start httpd 
pkill busybox  # to stop busybo httpd
note: by default busybox httpd binds port 80 with all available network interfaces and reads /etc/httpd.conf configuration file .
Node.js simple web server
If you're already familiar with NodeJs or love to fiddle with javascript, the easiest way to server static files is to use the http-server node module.
Just install the module globally, and start the server just by typing the command http-server.
sudo npm install http-server -g
 http-server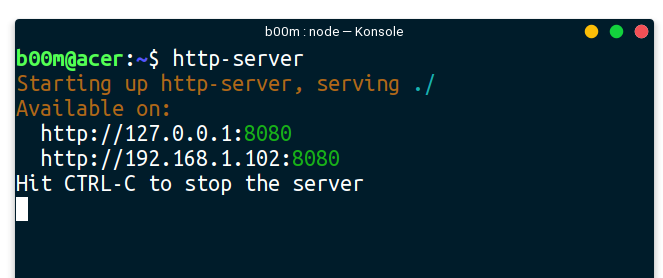 Obviously you need super user privileges to install node modules globally. By default the hhe server binds to port 8080, to bind a port below 1024, you also need superuser privilege.
Read more about the http-server here.
Webfsd lightweight web server
Webfs or webfsd is a very lightweight, linux simple web server for static pages and files. It is highly configurable, configurations are stored at the /etc/webfsd.conf file, which could be very easily edited.
sudo apt-get install webfs  # install webfs in Debian/Ubuntu

sudo service webfs start  # start the webfs server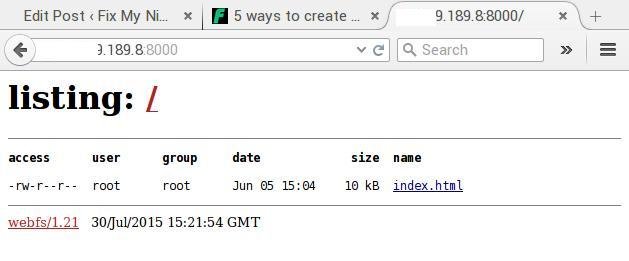 note: By default webfsd binds port 8000 with all available network interfaces with /var/www/html as document root directory in Debian.
Netcat as a linux simple web server
Netcat or nc, the swiss army knife for TCP/IP , is a very popular network troubleshooting tool.
It could be used as port scanner, port listener, file transfer agent, network connected file backup tool, as a backdoor even as a vary lightweight web server, amazing !
Netcat based web server is mainly used for serving text only files over HTTP, useful in monitoring purpose. Assuming you have basic shell scripting knowledge, lets start a simple HTTP server with netcat. Save the script bellow with whatever name you want , modify it according to your needs, make it executable with chmod +x and run it .
#!/bin/sh
while true; do
echo -e "HTTP/1.1 200 OK\r\n $(cat /var/www/index.html)" |
nc -lp 1500 -q 1
sleep 1
done
You may want to change the line cat /var/www/index.html with whatever you want to do, like /sbin/ifconfig eth0 etc. etc. If the sleep 1 line is removed, it will be difficult to stop the script with CTRL+C .
PHP inbuilt lightweight web server
If you have installed php 5.4 or above, then you could easily use the php CLI to create a simple and lightweight web server with.
It also have the capability of serving simple php based dynamic pages. simply use the command bellow .
php -S 127.0.0.1:8080
If there is a index.html or index.php file , it will be server by this simple php server , now test it with your favorite web browser.
Conclusion
If you need to create a simple HTTP server with IPv6 capability in python, it's here, python IPv6 web server.
I think now your problem is solved, if you need any further assistance just drop a comment, we'd be happy to assist you. Feel free to share this tutorial with your friends.