Here I'm going to share my experience with OpenWrt extroot on a TP-Link MR-3220 v2.4 router.
Though I did this on a MR-3220, this guide also applies to other routers like TP-Link WR703N, MR3020, D-Link DIR-505 etc etc. Just make sure you have downloaded the correct firmware for your router.
Probably you know all about it's hardware specifications, here is a short recap again
AR9331-AL3A 400MHz SoC
32 MB DDR RAM chip
4 MB SPI NOR flash memory
One 10/100M ethernet WAN port
Four 10/100M ethernet switches
150Mbps b/g/n Wi-Fi
One USB 2.0 port
Little about MR 3220 v2.4 hardware quality, I teared it apart within 1 hour of receiving, the hardware quality is average with average quality components.
Enough hardware introduction, lets start the main topic, installing OpneWrt and configuring extroot on a USB pendrive. OpwnWrt firmware installation is very easy through the web interface and openwrt extroot part is same for almost any other router too.
Which OpenWrt firmware version should I choose ?
This is one of the most important question, choosing the correct OpenWrt version is absolutely crucial. This router works perfectly with the latest OpenWrt trunk (Designated Driver), stable 15.05, 14.07 or 12.09 .
But OpenWrt is bloating day by day while limited NOR flash storage is not, the stable firmware is also bloated with LUCI web interface. The free JFFS2 space after installing OpenWrt is decreasing too. So you can't install more than a few package with this limited space, that's when putting extra files on a external drive is necessary.
After about 12-14 hour  experiment with various OpenWrt versions, I figured out that only OpenWrt 14.07 (Barrier Breaker) or earlier versions have the right amount of free JFFS2 space to install required bare minimal minimal packages to setup an extroot.
Note: There's another little difficult way to run latest OpenWrt on your router, then you've to build OpenWrt custom firmware.
Which filesystem should I use for OpenWrt extroot ?
Another very important question, the official OpenWrt extroot guide says that you could any UNIX-like filesystem of your choice, forget about FAT32 or NTFS. But the reality is extroot is only and only possible with ext4/ext3 or ext2 filesystem. I tested with almost every slim (I mean which equips less NOR flash space) filesystem
minix, not supported
HFS, not supported
HFS+, not supported
JFS, not supported
XFS, not sopported
reiserfs, not supported
There are other UNIX-like filesystems like BTRFS, LVM2 PV , UFS etc. but none of them will fit in the 288 KB free JFFS2 space, so I didn't tested them.
So the final choice is for a router with 4MB flash, choose only OpenWrt 14.07 or earlier and ext4 as extroot filesystem.
Request to OpenWrt pro users, if you had ever setup chroot with any other filesystem except ext4/ext3/ext2, please mention.
Installing OpenWrt on TP-Link MR3220
Assuming you have a PC running a Linux distribution, this is required for flashing the firmware and
Download the OpenWrt 14.07 firmware from here .
wget -c https://downloads.openwrt.org/barrier_breaker/14.07/ar71xx/generic/openwrt-ar71xx-generic-tl-mr3220-v2-squashfs-factory.bin
WARNING: Do it at your own risk, event with great precautions there is a chance of bricking the router. If possible connect the router to an UPS before flashing it.
Power on the router and connect a PC through a ethernet straight cable (patch cord) to one of four the LAN ports(the yellow ones).
Open up a browser and go to this address; 192.168.0.1 to access the web interface and login. Username: admin Password: admin .
Go to the System Tools > Firmware Upgrade choose the previously downloaded OpenWrt firmware with the Browse button and Hit the Upgrade button.
Wait for few minutes to let the flashing complete and automatic reboot.
Installation is complete now your PC will automatically receive a different IP via DHCP.
Initial OpenWrt setup
For first time we have to use telnet to login into OpenWrt,
telnet 192.168.1.1
or if you don't have telnet try this
busybox telnet 192.168.1.1
after login, change the password to enable ssh
passwd root
now exit from the telnet session with exit command and re-login with SSH,
ssh root@192.168.1.1
Installing necessary packages
At this step the router must be connected to the internet, you could use your existing DSL/cable internet for this purpose or share an existing connection from your PC. I personally did it by sharing my 3G connection with Network-Manager from my laptop.
Make sure that the router could connect to the internet
ping -c 4 8.8.8.8
Update opkg package repository
opkg update
Install necessary packages to support USB storage device
opkg install kmod-usb-storage kmod-scsi-core block-mount
Install ext4 filesystem kernel module
opkg install kmod-fs-ext4
That's all, check free flash space with df -h , do not install anything more ! if you try to do so, any packages larger than 10KB will return no space left on device error.

Now load all necessary kernel modules with modprobe command.
modprobe sd_mod
modprobe usb-storage
modprobe ext4

Or simply reboot the device with reboot command.
Partitioning the USB drive
Lets partition the USB drive, another question, how much space should I use for extroot partition? Just 100-200 MB is more than enough, I allocated a 200 MB ext4 partition for extroot, you could use more if you wish.  I used Gparted for partitioning a 4 GB USB drive.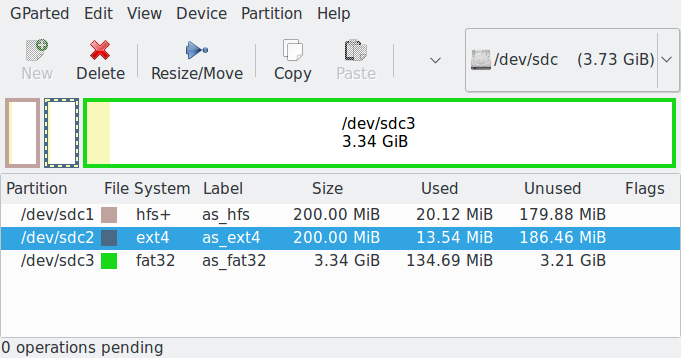 Now safely remove the USB drive and plug it in the routers USB port.
Configuring the OpenWrt extroot
After plugging the USB drive, it should show up as a storage device under the /dev directory as /dev/sda1 , /dev/sda2 etc. Simply go through the commands bellow
Mount the USB drive, change /dev/sda2 according to yours
mount /dev/sda2 /mnt
Copy data from /overlay partition to the USB drive
tar -C /overlay/ -c . -f - | tar -C /mnt/ -xf -
Un-mount the USB drive
sync && umount /dev/sda2
Configure /etc/config/fstab to mount the USB drive as /overlay partition
block detect > /etc/config/fstab
Now edit the /etc/config/fstab with vi to mount the etxt4 partition, /dev/sda2 at /overlay partition at startup,
vi /etc/config/fstab
have a look on a sample fstab configuration,
config 'global'
       option  anon_swap       '0'
       option  anon_mount      '0'
       option  auto_swap       '1'
       option  auto_mount      '1'
       option  delay_root      '5'
       option  check_fs        '0'

config 'mount'
       option  target  '/overlay'
       option  uuid    '7669178c-3f77-4fb1-b421-6ec6f61be672'
       option  enabled '1'

Set the target to /overlay, and change the option enabled line from 0 to 1 . Now enable the fstab service at startup
/etc/init.d/fstab enable
and check it
readlink -f /etc/rc.d/*fstab
reboot the router with the reboot command
reboot
Check if the extroot is working or not
After the reboot is complete login to the router with ssh again and check the free disk space with df and mount command.
df -h

mount

The df commnd should return a lot of free space available at rootfs, that means extroot is working fine.

Now check it again by installing some big packages, example >
opkg install e2fsprogs
Conclusion
I hope this simple beginner friendly tutorial will help you to start your experiment with OpenWrt.
If you have any question or suggestion, just leave a comment. Also don't forget to share this article with friends.