The price range of 100 US$ is mid tier for a wireless router. These router's are nether crazy fast nor too slow. Just perfect for everyday use without much slowing down.
Without further ado, here's a list of best router under under 100 USD you can rely on.
Also don't forget to check the buying guide and individual product specs before making any purchase.
Best Budget WiFi router buying guide
The budget here isn't exactly very low here. So you could expect all the necessary features of a good and reliable wireless network with a descent wireless range.
As a word of caution, advertised WiFi speeds are grossly misleading. You really have to be an expert to achieve let's say the half of advertised speed.
Dual band WiFi
Almost every recent wireless router you pick within the 100 US $ budget, offers 80.211 b/g/n/ac dual band WiFi.
But to be fair, you should not expect a crazy fast router with 8 MIMO antennas. These routers are just above the usable range. However such speed is descent enough for everyday use including gaming and HD video streaming.
Gigabit Ethernet
If the router's WiFi is advertised as 1600 Mbps or 2300 Mbps, and the Ethernet ports are still old 10/100 Mbps, then there's almost no point of having a dual band WiFi cad.
I've seen many cheap routers still using 10/100 Mbps Ethernet combined with dual band 5 GHz + 2.4 GHz WiFi.
Thankfully most manufacturer got this issue, and all the products listed here have gigabit Ethernet ports. So, that's another must have for any WiFi router under 100 US$ range.
And no doubt that the manufacturer is going to pack at least 5 gigabit Ethernet ports for connivance. One for the WAN network, rest of them are for the LAN.
For satisfactory performance, you should use CAT 6 cables, here's a list of best ethernet cable.
Multiple Antennas
This is so important here, as probably you're upgrading your router for better speed and coverage. This type of multiple antenna setup is called MIMO, crucial for high speed WiFi.
As example, with a single antenna, your router could theoretically reach maximum of 433 Mbps on the 5 GHz band. But on the 5 GHz band with 160 MHz bandwidth, and 4 antennas on both router and the device, it could theoretically reach 3.39 Gbps.
The 5 Ghz ac WiFi has also the capibility of beam forming, which could further maximize the range without significant speed reduction. These two are huge advantage of using multiple antennas on both the device and router.
With the best router under 100 $ budget, you should expect at least 3 antennas.
USB ports
USB ports on router are blessing if you're planning to do some geeky stuffs. Like installing a custom firmware, using the router as an FTP, SAMBA, Print or DLNA server.
Routers under this range will have at least one USB port, there may be 2 ports on many routers. On some models, there may be even a USB 3.0 port, providing much better speed, ideal for file sharing and downloading torrents on router.
You could even find SATA ports on few routers, but that's rare in this price range.
Descent CPU and RAM
Here descent doesn't mean a quad core Intel CPU or 8 GB or RAM.
A powerful ARM or MIPS CPU, enough to process heavy networking load. Many of these SoC have a off loading engine to handle heavy routing related tasks.
You could expect 128 MB to 512 MB of RAM in the router, enough to use it as micro server for home use.
Best router under 100 dollars
After being sure about your requirements and budget, go through the products listed below one by one to get an overview about each of them.
I've compiled a list of best wireless router within the price range of 100 US$ after a really long research. Also combining my experience with networking in general and user reviews from many different online forums.
You might find some of these routers on a either lower or higher price, mostly depending on the country you live. Hence the point of exclusively mentioning the price range of 100 US$ isn't exactly suitable, but anyway.
1. NETGEAR R6900P Nighthawk AC1900
This product from NETGEAR is a descent candiate to be in the list. Almost similar to the expensive version R7000, but with only one USB port.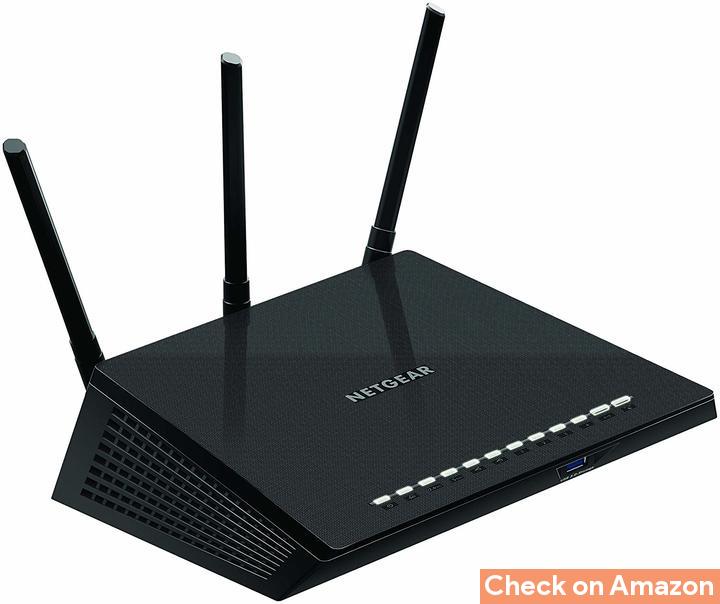 | | |
| --- | --- |
| Model | NETGEAR R6900P AC 1900 |
| CPU | BCM4708C0, 1 GHz dual core ARMv7 |
| RAM | 256 MB |
| Flash | 128 MB |
| USB | Single USB 3.0 port |
| Antenna | 3x3:3 MIMO antenna, detachable |
| Price | Check on Amazon |
With the BCM4360 desktop grade WiFi chip, on the 5 GHz band it could theoretically reach up to 1300 Mbps and 600 Mbps on the 2.4 GHz band.
There's also three MIMO omni antennas, provides a descent range and speed around it.
There's a single USB 3.0 port, which you can use to share files or connect a USB printer.
Though the cost touched the 100 $ mark, a little costly compared to the TP-Link product listed below, the optimized firmware from NETGEAR totally worth it.
This router is also going to disappoint you if you've the intention to put some custom firmware, apparently as there's no opensource driver for the WiFi chip.
So, if you're looking for a good router under 100 dollars, with a reliable management software, easily this router could be the best choice for you.
2. TP-Link Archer C9 AC1900
One of the best product well under the budget, has all the functionalities you need for descent wireless network setup.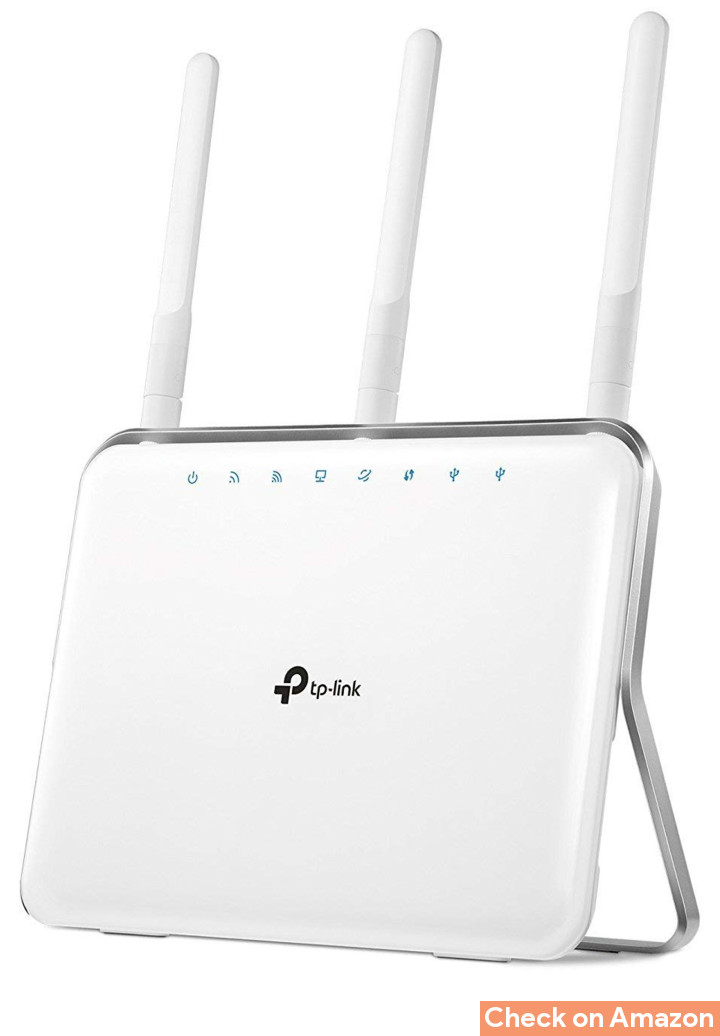 | | |
| --- | --- |
| Model | TP-Link Archer C9 AC1900 |
| CPU | BCM4709A0, 1 GHz dual core ARMv7 |
| RAM | 256 MB |
| Flash | 16 MB |
| USB | 1 USB 3.0, 1 USB 2.0 |
| Antenna | 3x3:3 MIMO antenna, detachable |
| Price | Check on Amazon |
On the 5 GHz band, maximum bandwidth is 80 MHz and modulation technique is 256 QAM, the antenna is 3x3:3 MIMO, good enough for theoretical speed of up to 1300 Mbps.With the dual core Broadcom CPU and BCM4360 WiFi chip, it provides a satisfactory WiFi speed of up to 1900 Mbps, both bands combined.
2 USB ports are specially useful if you're planning to share data and printer over network.
As of the latest router hardware version, v9 , doesn't support any custom firmware like OpenWrt or DD-Wrt.
So, it's overall the best router under 100 dollars, specially if you don't want to mingle with the firmware. The inbuilt router management software is good enough for everyday use.
3. Linksys EA6350 AC1200
Another good product from a reputed brand at around half of the budget.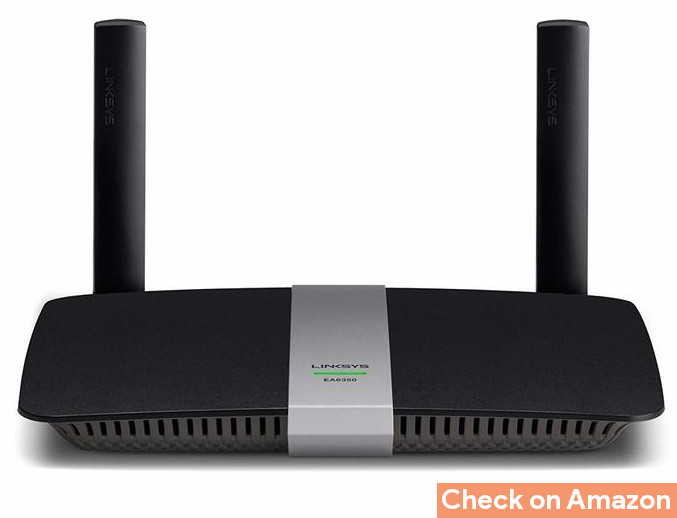 | | |
| --- | --- |
| Model | Linksys EA6350 |
| CPU | Qualcomm IPQ4018 quaq core ARM v7 |
| RAM | 256 MB |
| Flash | 128 MB |
| Antenna | 2x2 Wave2 MU-MIMO |
| USB | Single USB 3.0 port |
| Price | Check on Amazon |
To be honest, it's a very good router at this price range. The WiFi supports MU-MIMO, compared to others above, could achieve speed of up to 867 Mbps on the 5 GHz range.
For long range, the 2.4 GHz could deliver up to 300 Mbps with a wide coverage.
The Linksys Smart router firmware offers an easy and intuitive setup interface. Which is descnt enough for day by day use for any average user.
As this router is still new and not used by many geeky developers, it lacks OpenWrt or LEDE support. You could install the generic builds, but stability is not guaranteed.
So, again it's a great router at a very lucrative price, but lacks custom firmware support.
4. ZyXEL NBG6617 AC1300
This router got a good specs and build quality, from a renowned NAS and other networking equipment manufacturer, ZyXEL.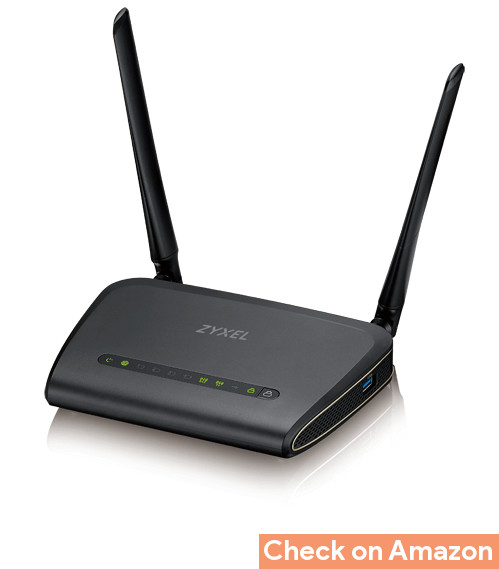 | | |
| --- | --- |
| Model | ZyXEL NBG6617 |
| CPU | Qualcomm IPQ4018 |
| RAM | 256 MB |
| Flash | 32 MB |
| Antenna | 2x2:2 MU-MIMO antenna |
| USB | Single USB 3.0 port |
| Price | Check on Amazon |
On the basis of hardware, this router packs enough power to handle up to 10 wireless device very easily. Qualcomm's Wave2 MU-MIMO technology and 128 MB of RAM ensures smooth wireless performance under heavy load.
The USB port could be used as SMB/CIFS/FTP shares or as a print server.
LEDE or OpenWrt custom firmware is supported, but for that you need to open the case. Obviously that will void the warranty.
This is one of the best router under 100 dollars, an alternative to the above Linksys product. If MU-MIMO and stable WiFi is your requirement, then certainly it's one of the best choice.
5. ASUS RT-ACRH13 AC1300
It's very similar to another ASUS product, the RT58U, even both of them got the same FCC id, and undoubtedly a great router in this price range.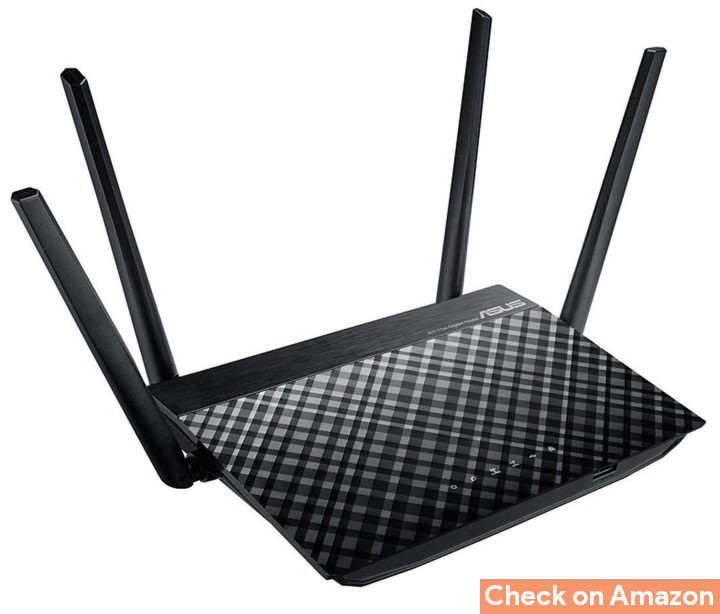 | | |
| --- | --- |
| Model | ASUS RT-ACRH13 |
| CPU | Qualcomm IPQ4018, qual core ARM, 710 MHz |
| RAM | 128 MB |
| Flash | 2 MB NOR flash + 128 MB NAND flash |
| Antenna | Total 4 antenna, 2x2:2 MIMO configuration |
| USB | Single USB 3.0 port |
| Price | Check on Amazon |
It delivers one of the best WiFi speed and performance with 4 external antennas and Qualcomm's wave2 MU-MIMO technology.
This router is not officially supported by LEDE/OpenWrt till now, but there's many stable firmware builds and installation guide out in the internet.
The USB 3.0 port provides satisfactory file transfer speed, however the inbuilt ASUS firmware limits it's true potential as a NAS, SAMBA or DLNA server.
The build quality is good enough for this price range. But if it used a little better quality components like shielded RJ45 ports and all SMD components, it could be the best router under 100 USD range.
6. TP-Link Archer A7 AC1750
The budget dual band router, reliable and just works. The management software interface is very easy to use if you've used TP-Link routers before.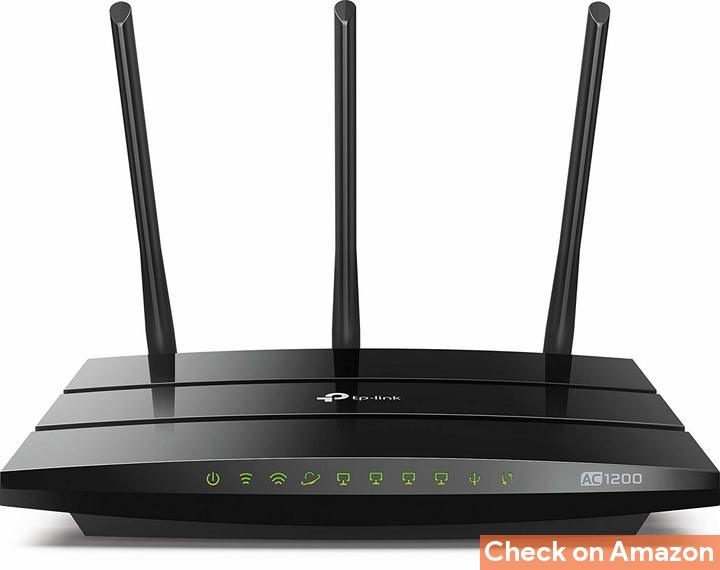 | | |
| --- | --- |
| Model | TP-LINK Archer A7 |
| CPU | Qualcomm QCA9563, 750 MHZ MIPS 74 Kc |
| RAM | 128 MB |
| Flash | 16 MB NOR flash |
| Antenna | 3x3:3 MIMO antenna |
| USB | One USB 2.0 port |
| Price | Check on Amazon |
As always with most Qualcomm hardware, the WiFi performance is excellent on this device. With three omnidirectional wireless antennas, it delivers a descent range. The WiFi speed could go up to 1700 Mbps combined on oth bands.
The MIPS architecture based CPU is a bit weak compared to the multi core ARM based CPU found on other devices. However it's good enough to be used on a router. The dedicated Ethernet switch chip provides excellent wired network performance.
OpenWrt is supported on this router, though not officially, you've to build the OpenWrt firmware yourself, similar to an older model, Archer C7.
So, if you're looking for a good WiFi router under 100 dollars with great WiFi performance, then this router definitely deserves a look.
7. Motorola MR1700 AC1700
Another good product from a reputed company, looks pretty well built and high quality.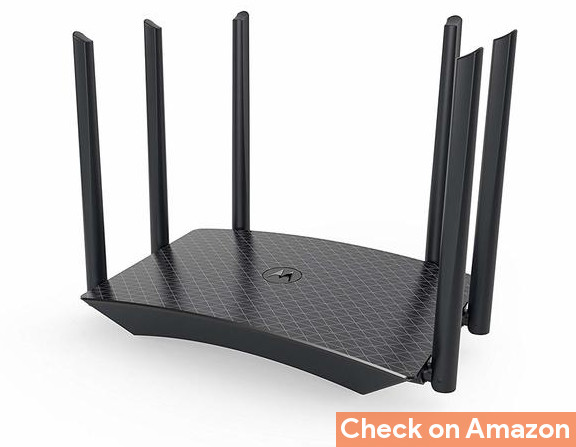 | | |
| --- | --- |
| Model | Motorola AC1700 |
| CPU | MediaTek MT7621AT, dual core 800 MHz, MIPS architecture |
| RAM | 128 MB |
| Flash | 16 MB |
| Antenna | 2x2:2 MIMO for 5 GHz band, 4x4:4 MIMO for 2.4 GHz band, total 6 |
| USB | None |
| Price | Check on Amazon |
The most notable thing on this router are the 6 antennas. On the 2.4 GHz band, it uses the MediaTek MT7615N WiFi chip, which is capable of reaching up to 800 Mbps theoretically with 40 MHz bandwidth.
Two MIMO antennas for the 5 GHz band and 4 antennas, 4T4R for the 2.4 GHz band.
Other features are almost similar to any good routers, like gigabit Ethernet ports, dedicated switching hardware and NAT offload engine, though it lacks USB port.
So, if yo're looking for the extreme performance on the 2.4 GHz band, definitely it should be your choice, the best router under 100 for this purpose.
8. Medialink MLWR-AC1200R
One of the popular router on Amazon with a relatively lower price tag, works just fine.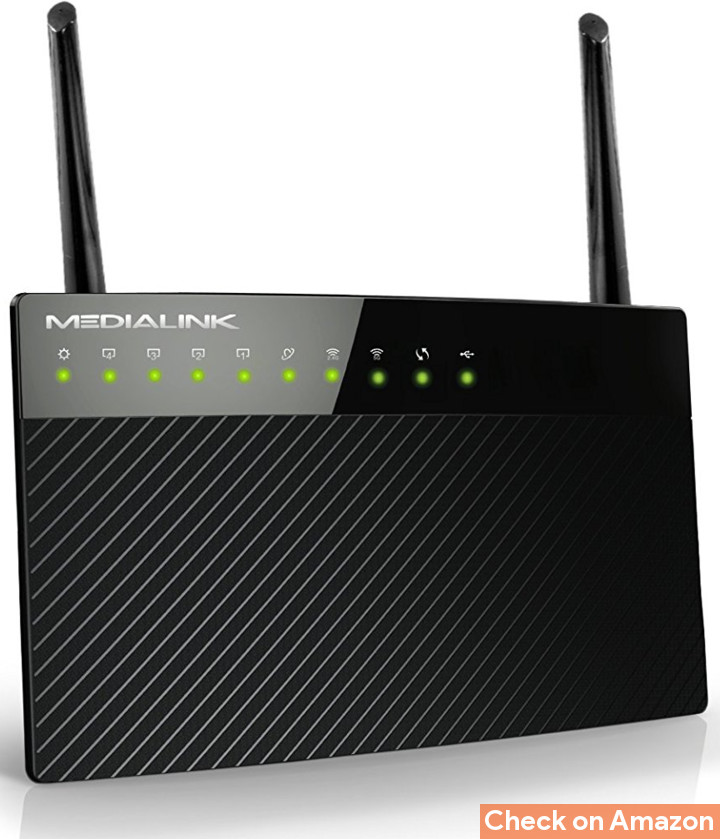 | | |
| --- | --- |
| Model | Medialink MLWR-AC1200 |
| CPU | Broadcom BCM47189B0 900 MHz ARM |
| RAM | 128 MB |
| Flash | 8 MB |
| Antenna | 2x2:2 MIMO antenna |
| USB | Single USB 2.0 port |
| Price | Check on Amazon |
The single chip Broadcom SoC and 128 MB or RAM is enough o handle up to 10 WiFi connected devices at the same time.
The router provides an excellent range by using dedicated WiFi amplifier chips, both on 2.4 GHz and 5 GHz bands.
If you're willing to try something different, then it could be a good choice, almost never fails to deliver satisfactory performance. However not much recommended if you're willing to stick with the known brands.
Thoughts and Conclusion
Well, that's the end of this list, all the product I've listed above are good enough for any moderate level of usage and gaming. Certainly these routers under 100 dollars are not suitable for more than 25 people at once.
Of course, another thing to remember is the WiFi speed. Ethernet ports could saturate your network near gigabit speed, however WiFi couldn't.
Even if the router says it has 1750 Mbps speed, it's the combined speed of two bands under optimal conditions. Also none of these router are triple band.
So, if the WiFi is shared between many devices, practically you could expect speed of 8-10 MB/s on 2.4 GHz band and 20-50 MB/s on the 5 GHz band.
If you've any better suggestion or product recommendation, let others know through the comment section.