If you're looking for an affordable yet quality Bluetooth MP3 player, then you are in the right place.
Most of us use smartphone to listen to music. But to use smartphone while running, exercising or working out is cumbersome and it will leave you in a condition to charge your phone more than twice a day.
A dedicated MP3 players much suited in this case. But there is worry to tangle up with the cord.
So, here it comes, the new generation's choice, an MP3 player with Bluetooth.
Due to smaller size, portability, flexibility and durability, mp3 player with Bluetooth is very popular these days. Also, with Bluetooth feel free from worry about tangled cables.
But before jumping straight to the list, check all the necessary features that make an MP3 player worth investing.
What should you know before buying
Size - The size of the Bluetooth mp3 player should be small and manageable. So that it fits in your pocket easily and doesn't cause any discomfort while walking, running, exercising and so on.
It should be lightweight too.
Sound Quality - A pleasant track can be stressful, disturbing when you listen it with bad sound quality audio player. To enjoy superior quality music buy the one with high resolution or high definition audio quality.
Battery life - Battery life is important. Bluetooth mp3 players with good battery life enables you to enjoy music for quite long time and you don't have to worry about to charge it every other day. Also, you can enjoy music while traveling and do not have to worry about thinking of charging.
Memory - To keep huge collection of songs a good memory space is needed. Some MP3 players have enough in built memory. Some of them are expandable up to huge memory.
Bluetooth - As it works over Bluetooth connection, so you should check Bluetooth quality so that fast transfer of audio, and other files to the player is possible. You should also check the Bluetooth version to get to know device compatibility to output devices.
Waterproof or not - Some MP3 player with Bluetooth are waterproof. If you are a swimmer, surfer or whatever and need something water resistant or waterproof then check this too. However, it doesn't matter, as underwater Bluetooth range is very much limited.
Price - So many products with same quality and features are available in the market. While checking the quality, check the price too and be sure you are not spending extra money for same quality product.
Brand - Many off brand products are available in market at very cheap price. Do not get be fooled by buying an off brand product just for the sake of cheap price.
Best Bluetooth MP3 Players
Now once you have decided to buy a mp3 player, you may not settle down, thinking about which one to buy or which one is the best option available to you.
To make it as easy as possible, here we are presenting the list of the best Bluetooth mp3 player available in 2020.
Note- The list is not made in any such order like from best to worst or from worst to best. Each of the products is of best of quality at a particular price range.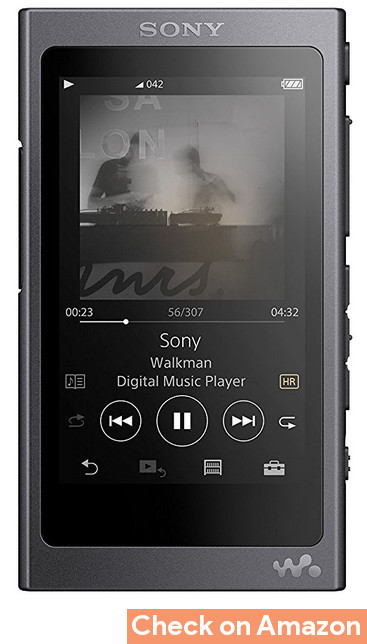 The legacy of Sony for its legendary product quality is brilliantly maintained in this new launched product from A 40 series.
Sony NW - A 45 /B Walkman is simple and compact with stylish exterior. With high resolution audio and digital sound enhancer system get a feeling of studio quality sound.
Hi-Res audio amplifier of it, helps to cut distortion & noise.
Specifications :-
16 GB in built memory
Expandable up to 128 GB
45 hours playback time
3.1 inch (ca. 8 cm) intuitive touch screen
Easy connectivity with Bluetooth
S master Hx digital amplifier to cut distortion & noise
DSEE Hx digital sound enhancement engine & ambient sound mode
DSD playback to experience natural sound and intense detail of DSD audio formats
Easy playlist and bookmark management, could be saved either on the internal memory or the SD card.
Supports displaying lyrics, but you need to import the proper LRC file along with the audio track.
Pros
Hi resolution studio quality music.
Best in class battery life.
Excellent product service and reliability.
Cons
A little expensive.
Screen is quite larger than other players.
Related accessories from Amazon
1. Protective silicone case
2. Tempered Glass Screen Protector
3. Micro SD card - SanDisk 128 GB
Regardless to say why we keep this Bluetooth mp3 player from Sony in first position of this list. Though it costs a little more than music players.
But if you are voracious music lover and want to get the feeling like the artist is performing in front of you, this is for you. Ambient sound mode of it keeps you aware of surroundings. It comes in different colors.
This tiny mp3 player with Bluetooth is truly one of its kind at this price range.
You've to appreciate its elegant yet durable build quality, and high quality audio output. A perfect choice if you don't have much problem to use a small touch screen.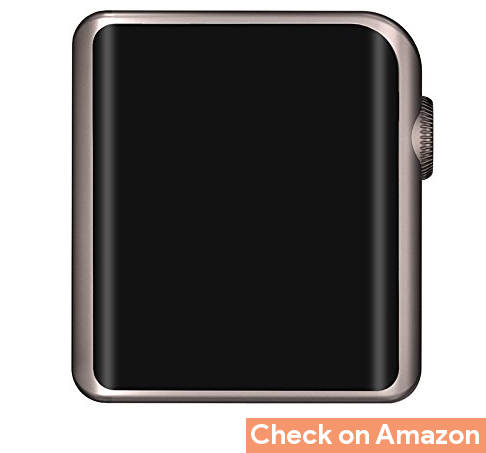 Size- 40*135*45 mm, really tiny size.
Display- 1.5" touch display, 240x240 pixels.
Playback time- Around 10 Hrs, 640 mAh Li-Ion battery.
Internal memory- None.
Micro SD- Supports up to 512 GB micro SD card.
Audio playback- High resolution audio playback 384 kHz.
Codec support- DSD, FLAC, DSF, MP3, WMA, DXD, WAV, AIFF, M4A
Bluetooth- Version 4.1, range up to 10 meters.
Pros
Hi-fi audio playback with quality DSP
Good battery life, 2 way Bluetooth.
Good build quality and reliable firmware.
Cons
No internal memory.
Tiny display size, touch is not very snappy
Other essential features of any MP3 players, like playlist management, add to favorite, shuffle, lyrics, file info are also supported, however not very convenient due to the tiny display.
It packs some serious stuff inside the tiny package, delivers quite outstanding lossless audio quality with the ESS ES9218P DSP.
More than that, this AptX compaitable bluetooth device could connect bidirectionally, i.e. either deliver audio to headphones or receive audio from another device, as example a smartphone.
You could also connect the device to your computer to use it as a high quality DSP sound card, via a USB type A to type C cable.
So, if you're looking for a tiny portable player, definitely this should be on your list.
If tiny music players with touchscreen is not your thing, then here's a product from iRULU in this list with a reasonable price tag.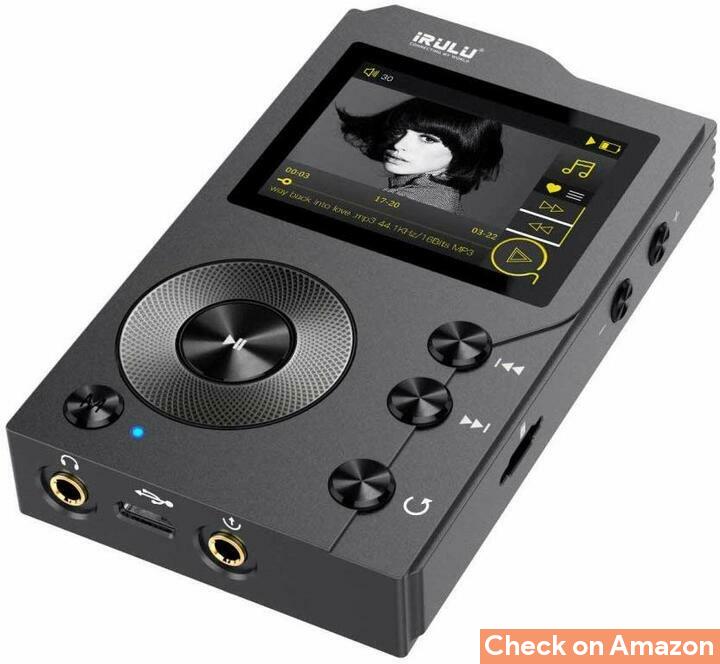 Specifications :-
Hi-fi lossless, high resolution and DSD music player.
Two-way Bluetooth 4.0 connectivity, with aptX codec support.
Supports 2 mode, as an audio playback device also as an audio input device.
2" non-touch TFT display and Zinc allow metal shell.
Dedicated buttons for controlling the music playback.
No inbuilt memory, but supports micro SD card up to 256 GB, one 16 GB card provided for free.
Can play from micro SD card or external USB drive via USB OTG functionality.
Up to 10 hours of music playback on a single charge, both with headphones or via Bluetooth.
Pros
Lossless music playback and good audio quality.
Non touch operation, with 9 keys.
Robust zinc-alloy body and good build quality.
Reasonably good battery life.
Cons
It's not waterproof.
The user interface isn't the best in the market.
Poor playlist management.
Obviously this music player is for those who prefer to use buttons instead of a touch screen. With its 8 dedicated keys and a scroll wheel, it's fairly easy to control the playback.
The metal shell and the tempered glass covered display is robust enough to survive a fall from few feet of height, but this product is definitely not waterproof or splash proof.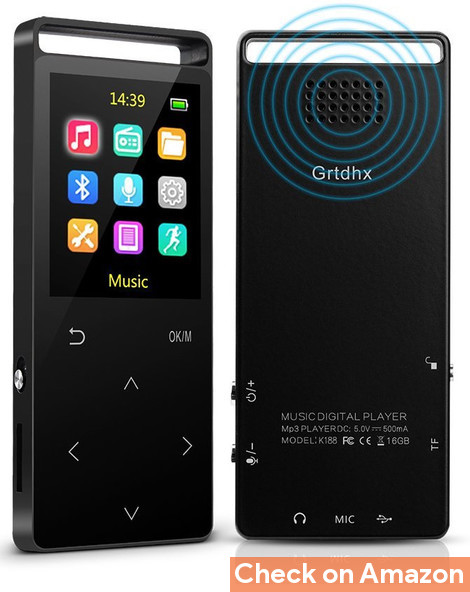 The second wonder of this list is from Grtdhx. With lightweight, excellent hifi HD sound quality, clear screen and sturdy exterior it is one of the best mp3 player with bluetooth available in the market within affordable price.
FM radio, voice recording, ebook reading options are available. It supports different languages such as english, japanese,spanish and so on.
Anti - interference ability of it helps user to enjoy music without getting disturbed noise from outside.
Specifications :-
Inbuilt 32 GB. expendable up to 128gb
HD sound quality
500 mAh battery. 50 hours playback time
1.8 inch colour screen
Supports bluetooth version over 2.0 and below 4.0
Light weight
Independent boot key to switch on / off
Multi functional music player
Pros
2.5 inch small, handy, pocket size.
Very good build quality.
High quality lossless audio.
Good product service.
Cons
A little Expensive.
Can't be paired with car Bluetooth.
Bluetooth version of it enables high speed and stable transmission of videos, songs and other files to the player.
With audio line input it can also be connected to computer. Armband is provided with the package.
Kindly note, this cannot be paired with car Bluetooth or smartphone.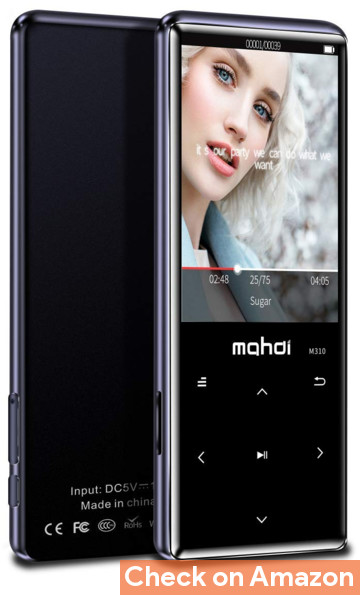 Well, the name is hard to pronounce, but the product is quite good at this price range.
This Bluetooth mp3 player is slim, sleek and stylish with shiny curved design. Tough metal shell and scratch proof glass makes it quite durable.
It has excellent sound quality with low distortion rate. FM radio, voice recording and E-book reader functions are also available.
Specifications :-
Inbuilt 16 GB. expandable up to 128 GB.
2.4 inch (ca. 6 cm) 240x320 LCD screen.
Small size and light weight, compact design.
Sophisticated look with good enough build quality.
USB 2.0 connectivity, data transfer through OTG.
FM radio, E-book function and sound recorder.
12 hours outrageous battery life.
Pros
Cheap yet good build quality.
Small, lightweight and durable.
Reasonable battery life.
Larger display size.
Cons
Relatively unknown brand.
A little larger.
Super shiny exterior finish.
So, MYMAHDI this product is cheap yet quite usable, specially the large display with scratch proof front glass.
However if you need a cheap music player for workout or other outdoor activity, it could be a perfect choice when combined with a wireless earphone.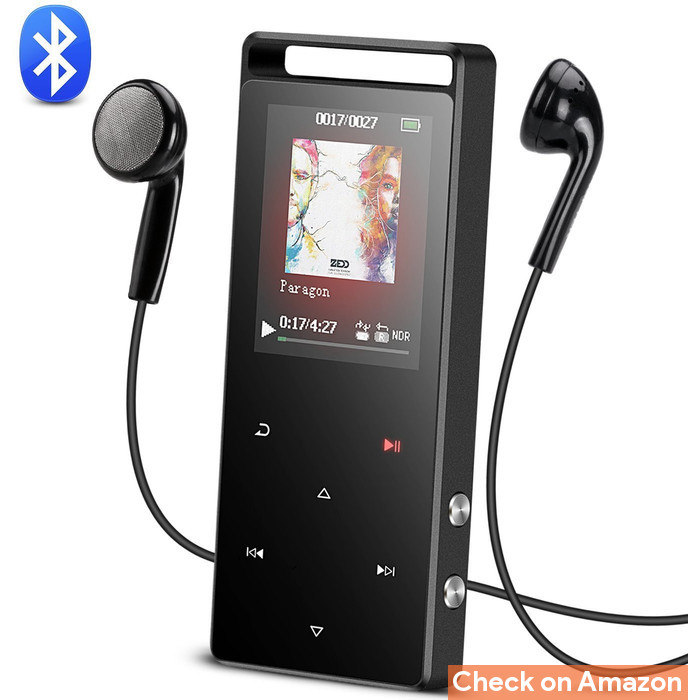 This product from AGPTEK has already won hearts of many music lovers.
AGPTEK A01ST Bluetooth mp3 player is slim, sleek and durable with fancy design. With Bluetooth 4.0, it enables strong anti-interference performance and high speed data transfer.
Specifications :-
Slim, sleek, lightweight.
1.8 inch (4.57 cm) TFT screen.
High sensitive touch buttons.
45 hours of music playback.
Inbuilt 16 GB, expendable up to 128 GB.
Multi functional and Hi-fi lossless music.
One key voice recording, one key lock to screen.
Pros
Reasonably priced.
Slim durable design.
45 hours long battery life.
HD quality audio.
Cons
Feels a little heavy and larger on hand.
From a relatively unknown brand
High sensitive silent touch and smooth hand feel of it makes it very user-friendly.
Other functions like FM radio, audio recorder, e-book reading, Pedometer are also available.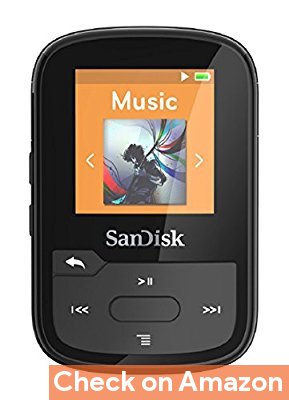 This is one of the finest mp3 players made by Sandisk and also one of the best bluetooth mp3 players available in the market.
Sandisk clip sport plus MP3 player is small in size(smallest of this list too).
It easily clips to your clothes, so that you can go for bike riding, running or exercising and able to enjoy music anytime.
Built in FM radio is available. It is the only water resistant mp3 player with bluetooth support in this list.
Specifications :-
Small pocket-size built.
Lightweight and durable.
Clip to attach to cloth.
16 GB inbuilt memory, expandable up to 32 GB.
1.44 inch (3.66 cm) TFT Screen.
Built in FM radio.
Water splash resistant.
Around 20 hours of battery life.
Pros
Compact form factor.
Reasonable price tag.
Water splash resistant.
Clip provided to fit with garments.
Cons
Average battery life.
Small display size.
Fewer features compared to others.
So, if you're looking for a compact and waterproof wireless mp3 player for outdoor activities, there could be no better choice than this product from SanDisk.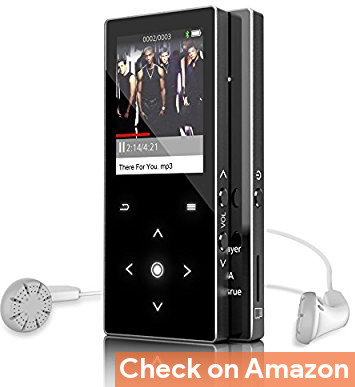 Once again Dansrue is in this list. And it is Dansrue 8gb mp3 player with Bluetooth 4.0.
This one has in built FM radio, voice recorder and e-book reading function. Bluetooth 4.0 helps in fast and stable transfer of data to music player.
Specifications :-
Mini size, lightweight and durable.
Sophisticated look.
1.8inch (4.57 cm) TFT screen.
8 GB inbuilt memory, expandable up to 64 GB.
25 hours battery life.
Good quality sound output.
E-book reader with text file input.
Bluetooth 4.0
Pros
Cheap and light weight.
Simple design with touch buttons.
Available in multiple colors.
Durable plastic build.
Cons
Medium battery life.
Bluetooth 4.0 only.
May not be compatible with older Bluetooth devices.
So, it's a fairly cheap product. You can go for it if you just something compact to listen music, instead of the smartphone.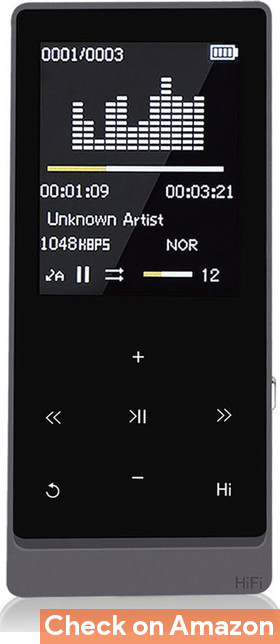 The seventh product of this list from Newiy.
With stylish exterior, compact design, HIFI sound quality, sensitive touch buttons and high battery life.
Newiy start 8 GB music player with touch button, is one of the good Bluetooth mp3 players available in the market within affordable price range.
Specifications :-
Simple and stylish design
1.8 inch (4.57 cm) screen
500 mAh batter, up-to 3 hours of music play.
8 GB in built. Supported up to 32 GB.
Bluetooth 4.0
High sensitive touch.
HIFI sound quality.
Dual audio out port
Pros
Reasonably priced.
Dual audio port.
Slim, stylish
Cons
500 mAh battery
Takes long time to charge
Newiy start Bluetooth mp3 player is user-friendly with sensitive touch buttons.
It has inbuilt FM radio, voice recorder. Ebook reading function is also available.
It has dual audio port also. You can insert two pairs of headphones at the same time. Thus sharing with your friend or loved one becomes easy with Newiy start Bluetooth music player.
This product is from Valoin, one of those thousands' retailer selling electronics online, specialized in music related products, digital voice recorder and accessories since 2008.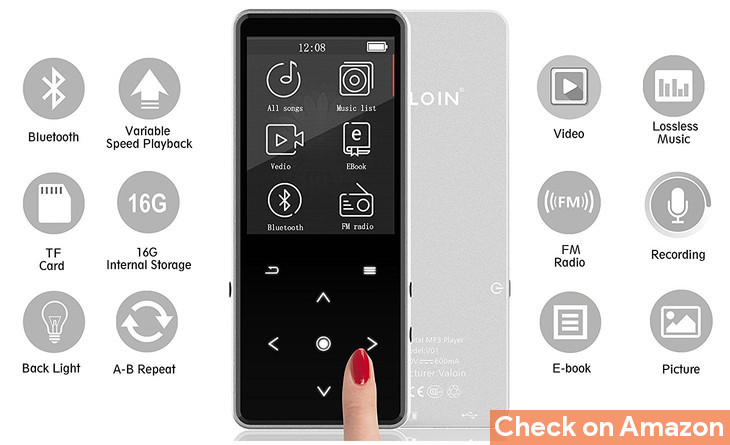 Valoin 16 GB mp3 player with bluetooth is a compact device with robust design. It's 2.4 inch screen provides you comfortable viewing experience.
With Bluetooth 4.0 high speed and stable transmission is possible within a range of 10 m.
Specifications :-
Inbuilt memory of 16 GB, expandable up to 64gb
2.4 inch eye soothing screen
stylish exterior
sensitive touch buttons
bluetooth 4.0
USB 2.0 connectivity
playtime up to 35 hours
Multi functional music player with E-book reader
Pros
Good quality product at medium price range.
2.4 inch eye soothing display.
Robust sophisticated look.
Cons
Medium sound quality.
Off brand product
USB 2.0 ensures quick transfer of music, videos and pictures into the player. With 7 sensitive touch buttons it is easy to use.
Built in FM radio, voice recorder is also included. Ebook function allow you to read. txt files.
It can be connected to car audio through 3.5 mm audio cable ( included in the package)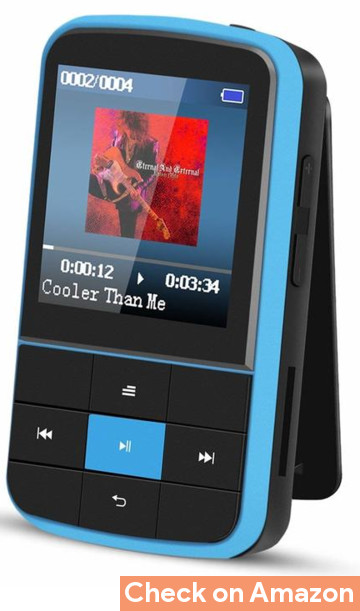 Once again Agptek is in the list and it is Agptek G15 portable clip bluetooth mp3 player.
It is small in size and weighs light. With Clip to fit to shirt or pocket and armband it is very sports friendly.
You can enjoy music while walking, jogging or exercising. The product is black in color.
This bluetooth mp3 player supports APE, WAV,FLAV etc like lossless audio formats.
Bluetooth 4.0 enables to transfer music and other files to the player and connect seamlessly with all bluetooth speaker and headphone up to 10m.
Specifications :-
1.5 inch (ca. 4 cm) TFT screen.
Light weight and elegant design.
blue tooth 4.0
Multifunctional mp3 player.
Internal memory 16 GB, supported up to 128 GB.
24 hrs playback time.
Clip and armband.
High quality music.
Sweat proof silicone cover.
Pros
Compact size, lightweight build.
Sports friendly, waterproof casing.
Low cost.
Good sound quality.
Cons
Average construction quality.
Neither splash proof nor waterproof.
There is also inbuilt voice recorder, radio and book reader. It can be connected to car audio system with 0000 pairing code.
P.S- Earphone is not included in the package.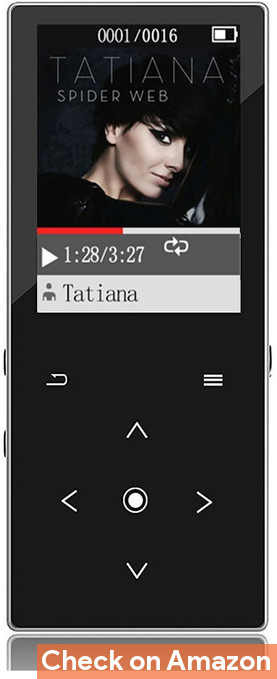 Another Chinese off brand product.
With high crushing resistance, high strength and excellent HIFI sound quality, Hongyo touch button 16gb mp3 player the newest edition adds elegant look.
Hi-Fi sound quality and metal shell provides you excellent user experience.
The inbuilt speaker allows you to enjoy music without earbuds. Digital noise reduction chip helps to reduce noise and gives clarity in sound.
Specification :-
1.8inch (4.57 cm) TFT screen.
Bluetooth 4.0
Inbuilt 16 GB memory. Supported up to 128 GB.
40 hours of audio playback.
Built-in speaker.
High crushing strength.
Sensitive touch buttons.
Pros
Low cost and durable.
Hi-Fi music quality.
Built-in speaker.
Cons
A bit large to hold in the hand.
Off brand product.
However, this product looks surprisingly similar to another product of this list, Dansrue.
Most of the audio formats are supported. There is inbuilt FM radio. Bluetooth mode is compatible with cars of 0000 Bluetooth pair code only.
Owning all these facilities this product comes within affordable price. It can be a good surprise gift for your loved one.
Though we don't recommend any super cheap off product, but they're lasts quite long for the price.
Conclusion
The list of best bluetooth mp3 player is over. Hopefully, you have chosen the right one you want to buy according to your need and budget.
We have made this list checking more than 50 of products available in the market. We always took into consideration that we are presenting the best products before you within justified price range.
Buy the one you like most and enjoy music while walking, running, exercising or travelling.
It is our responsibility to present the best quality products before you. We will be happy and our effort would be fruitful, if you could be more than enough satisfied after buying any of the bluetooth mp3 players.
If you do not want to spend much money you can choose the bluetooth mp3 players with lower price from this list. You do not have to regret thinking about the product quality. Your love one or friend will be more than delighted, getting one as gift.