As Instagram gaining popularity day by day, it evolved beyond just another social media. It's now one of the most used advertising platform for brands.
So, many users looking for how to download Instagram videos. But one can't simply do that, as Instagram doesn't have any such downloading feature.
So you're stuck with a browser add on, desktop application or a online downloading services.
VideoDuke is such a desktop application for Mac OS to download Intagram videos. Today we'll take a detailed look to find out it's features, what's good and what not.
VideoDuke Features
Let's see what options are available with this Instagram video downloader app.
Download anything, Video/Audio/Flash or all rescorces at once.
Dowload vdeos from many other sites,like Youtube, Vimeo, dailymotion, not just Intagram.
Save videos in multiple formats, like 360p or 4k resolution, different containers and codecs.
Quickly search for videos with the inbuilt browser mode.
Bookmarks feature to save frequently accessed sites or Instragram IDs.
Download history feature for easily accessing previously download videos.
Browser integration provides the option o download specific content while browsing Instagram on a web browser.
Download YouTube videos as mp3 files, pecially music videos.
So, it's quite a feature packed application, could be used in two different modes, simple and advanced, in the advanced mode you can fiddle with advanced options to suite your particular need.
Installing VideoDuke
Installing the VideoDuke app is as simple as installing any other Mac OS app, just open the instagram video downloader link, and click over the Download button. This will download the application dmg file and the installer process should start automatically.
For easier access later, you can move the app launcher to the Applications directory of your Mac.
Here's a video tutorial, goes through installing process step by step for better understanding.
Using VideoDuke to download Instagram videos
So, as I've said earlier, using this app is very easy, there's little to none learning curve even for average users.
First you've to choose the the post you wish to download, and copy the URL from the browser's URL bar.
Then open up the application, and paste the coped link in the VideoDuke app's URL bar on the top, finally hit the Enter button.
Within few seconds, the Video thumbnail will appear with the downloading option. Select the desired format you want to download and just hit the download button. The download should start very soon.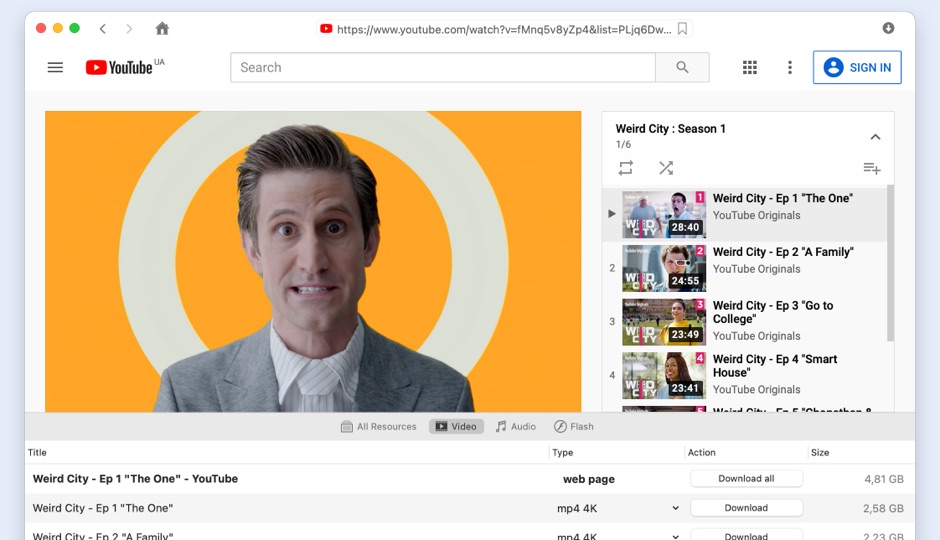 Downloading could take some time, few seconds to few minutes, depending on the internet speed and size of the video.
By default, the video i saved in the Downloads > VideoDuke folder on Mac OS, however you can change the destination folder easily from the Preferences setting in the app.
This downloading feature is not only limited to Instagram, you can download videos from many other popular video sharing platforms like Vimeo, Facebook, Twitter TikTok etc. etc.
Pros and Cons
There's many other similar apps to download Instagram videos. So, what make's it special?
Well, the application itself, much better compared to other solutions.
Clean and consistence user interface matches well with the simplicity and elegance of Mac OS, yet there's advanced features for advanced users who likes tweak the setting a bit to make workflow faster.
There's only one con I could find, it's a premium application, so can't do much with the free trial version, however the life long licence is priced low enough to be justified.
Even if you're not willing to pay for the premium version, the free version packs enough features to give it a try, then decide if you wish to continue using the software or not.
The single user licence starts at 19.95 US$ , not a lot considering VideoDukes reach set of advanced features.
And with life time updates, it could be the only Video downloader you ever need to install.
Thoughts and Conclusion
So is this app good enough for download videos?
I'd say absolutely, and no doubt much better than using any untrustworthy browser add-on, or sketchy websites which have direct control over the web page you're visiting.
You don't need to use such services if you're a computer geek, any tool like youtube-dl will suffice. However VideoDuke is absolutely no brainer, perfect for not so tech savvy people.