Here we'll do a review of Stellar Data Recovery Professional software on Windows.
Recovering data from a fragmented hard drive is quite an arduous job, as fragmented drives tend to fail or get corrupt easily.
Factors such as slow read/write, frequent system freezes, data corruption are a few prominent issues that makes data recovery from a fragmented drive a challenging task.
Now, before jumping to fragmented hard drive recovery, let's quickly understand what a fragmented drive is and under what conditions data recovery is possible from such fragmented drives.
Challenges Associated with Fragmented Hard Drive Recovery
Storage drives become fragmented during their usage as you write, delete, resize, and shrunk files on the drive over a period.
The unallocated storage blocks that become available after deleting or modifying a file are used to store new data.
If the deleted file size was smaller than the original file, the new data is written into fragments, i.e., on the unallocated blocks of deleted files and unused/empty memory blocks. Such files stored on scattered memory blocks are referred to as fragmented files. The more you delete and write data on the hard drive, more fragmented your drive becomes.
A highly fragmented hard drive performs slower as bits of data are stored in a discontinuous order (or in fragments as shown in the diagram).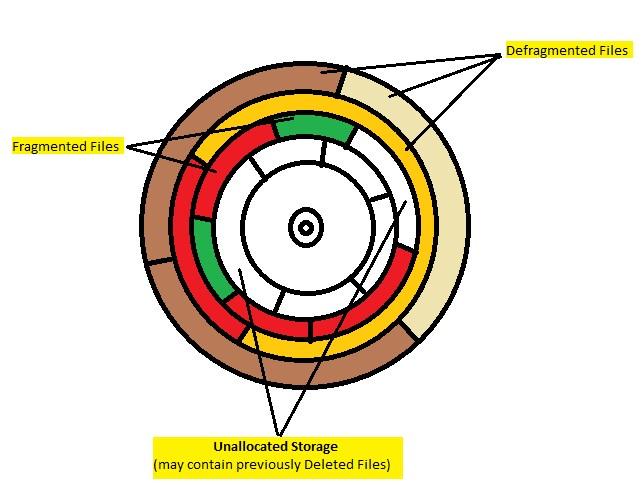 Further, these file fragments lead to additional wear and tear on the drive as to read a fragmented file; the drive needs to read the sectors located far away from each other.
That's the reason why fragmented drives perform slower.
Try AmazonPrime for free
Enjoy free shipping and One-Day delivery, cancel any time.
However, you can defragment the drive using the inbuilt 'Defragment and Optimize Drives' option in Windows—making it faster and healthier. Sounds easy, isn't it! But, there is a catch!
Why defragmentation is a Bad Idea before Data Recovery?
Defragmentation (or defragging) re-arranges the non-continuous file fragments—as shown in the above diagram—in continuous regions, which makes file access faster.
However, if you run a defragmentation on your fragmented drive after data loss, the accidentally deleted files can't be recovered through any software. As the empty memory blocks get overwritten since file fragments are moved from a non-continuous memory block region to a continuous memory block region (refer diagram below).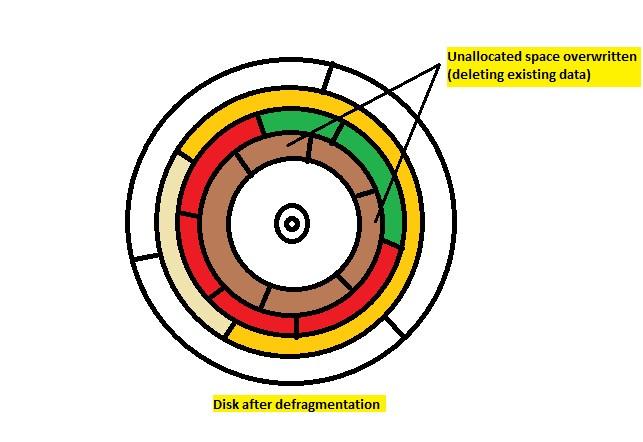 Therefore, it is advisable, not to run a defragmentation on your hard drive if you have recently lost your data. Run Stellar Windows Data recovery- Professional to restore lost and deleted data from fragmented hard drives.
Pro Tip: SSD doesn't require defragmentation. Never defrag an SSD as it causes unnecessary writes on the drive that degrades its life.
Performing fragmented hard drive Recovery
Unlike normal file recovery, fragmented hard drive recovery requires more time because a fragmented drive becomes much slower.
Additionally, prolonged use of fragmented hard disk could cause software to crash or hard drive to fail that could lead to permanent data loss situation.
Therefore, you need an advanced data recovery solution such as Stellar Data Recovery Professional to recover data from such fragmented hard disk.
The software has an option to recover data from a disk image.
The option allows you to create a virtual copy of your affected hard drive that you can store on any storage drive or cloud.
After creating the hard drive image, you can disconnect the drive and run the Stellar Data recovery- Professional on the hard disk image. This not only saves your fragmented hard disk from extra stress but also facilitates much faster data recovery.
You can perform fragmented hard drive recovery by following these steps:
Download and install Stellar Windows Data Recovery- Professional on a different Windows PC

Connect your fragmented hard drive via SATA port or USB port with the help of HDD enclosure

Run the software
From 'Select What to Recover' Screen, choose 'All Data'
Click 'Next'
Choose 'Recover from Disk Image' and click 'Scan.' A pop up appears
Select the 'Create Image' radio button and click 'Next.'

Under 'Physical Drive,' choose your connected hard drive. Note the drive size. Alternatively, you can also select the local disk if internal drive volumes are fragmented.

To create image of the entire drive or partition click Start Imaging or if you want to create image of a selected region on hard disk, click on Advanced Settings. From 'Select Range to Create Image' screen drag the sliders to define starting and ending sectors of the image file. Click Close, and then click Start Imaging.

Click the 'Start Imaging' button.
Now browse the location with enough free storage and click the 'Save' button to save the selected hard drive or partition image file. Ensure source and destination are different.

Wait for the software to save the disk image.
After the image is successfully created, disconnected your affected hard drive.
On the 'Select Location' screen, this time select 'Recover from Existing Image.
Click 'Scan.' A new screen appears.
Click 'Add' and choose the hard drive image you just created.

After adding disk image, click 'Scan' and wait for the scan to finish.
In case your desired files are not found, click 'Click Here' link beside Deep Scan text at the bottom of software screen (refer screenshot).

Wait for the Deep Scan to finish.
After Deep Scan, select the files and folders you want to recover from the 'Deleted List' in the left pane. You can preview the files before recovery.
Click 'Recover' and then click 'Browse' button.
Choose a location where you want to save the recovered data.
Click 'Start Saving' and wait for the software to finish saving your recovered data at your desired location
At this stage, you have successfully performed the data recovery from a fragmented hard disk.
Conclusion
Hope this was a sensible Stellar Data Recovery review. Fragmented hard drives are much likely to fail or get corrupt than a defragmented hard drive. Therefore, try to defrag your hard drive more often and optimize the drive for faster performance.
Avoid defragging hard disk if you lost your data recently and need data recovery.
Software such as Stellar Data Recovery for Windows comes with options that let you restore data from a fragmented or failing hard drive by creating a virtual disk image that minimizes disk usage and maximizes recovery of your crucial data at much faster speed.
We have already explained the process how it is done and why you need to create a disk image for fragmented hard drive recovery in this post.