Here's how you can sideload KODI on FireStick within few minute.
If you have everything ready, then it's arguably the fastest method to install KODI.
And of course, Amazon's Fire TV stick feels a bit incomplete without KODI, it opens up a whole new world of entertainment.
The steps are simple enough to be followed by everyone, regardless of the operating system, either it Winows, macOS or Linux. So, let's get started.
Enable ADB and App installation permission on FireStick
This step is to be done on the FireStick. If your're on the home screen, use the right arrow key of the remote's navigation ring to go to the Settings menu.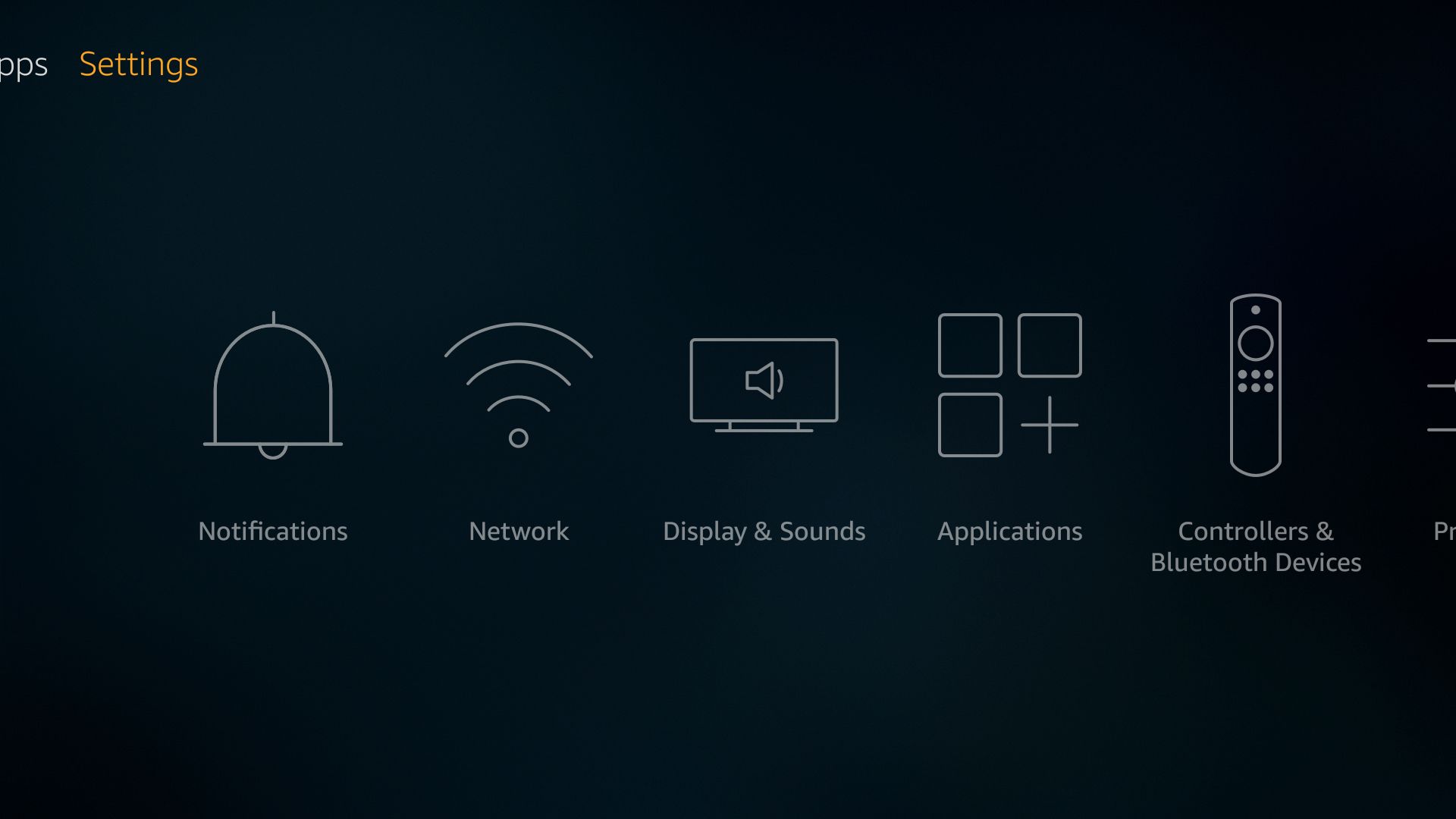 Then from setting go to the Applications menu.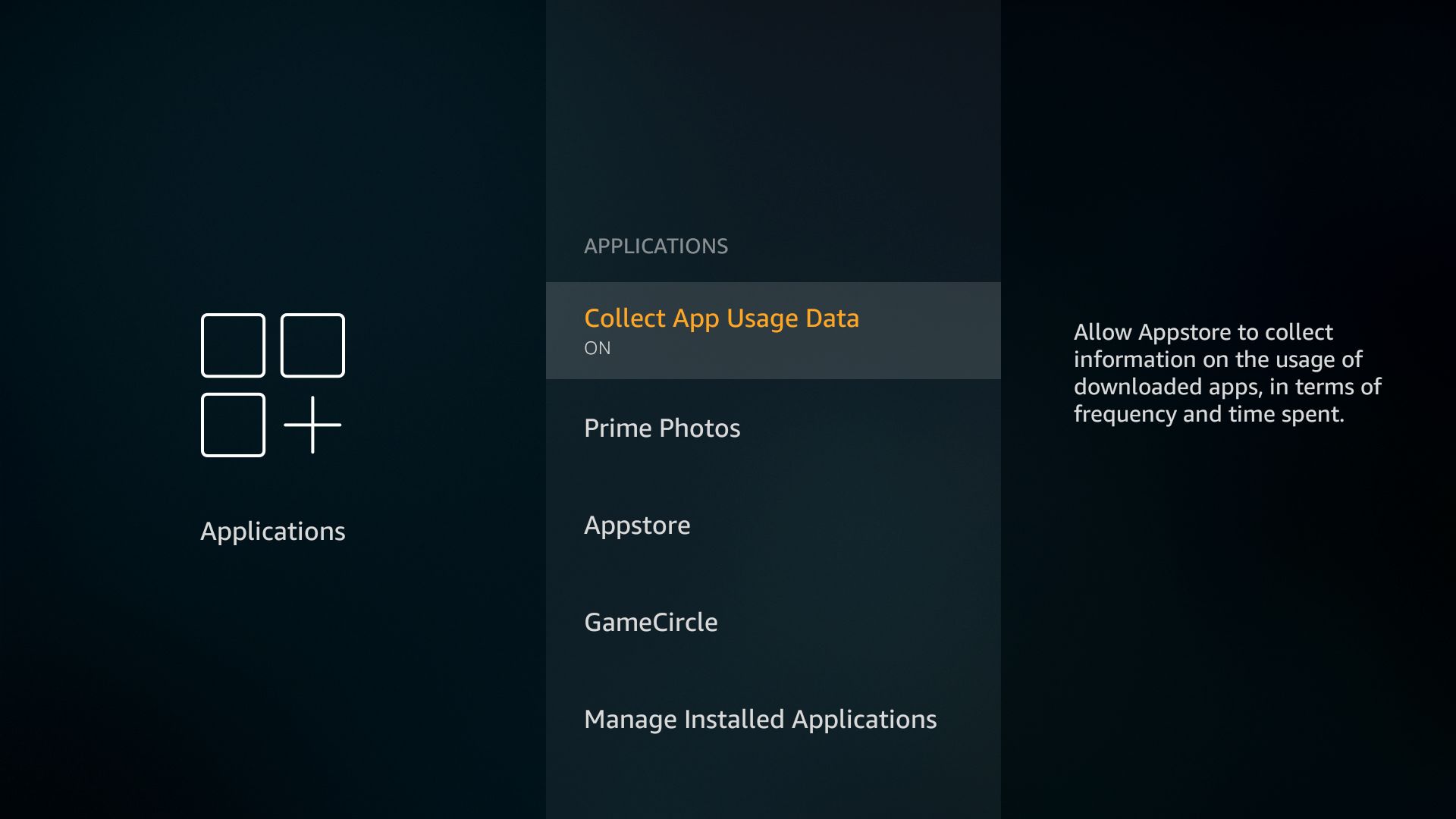 Then turn off the Collect App usage Data option.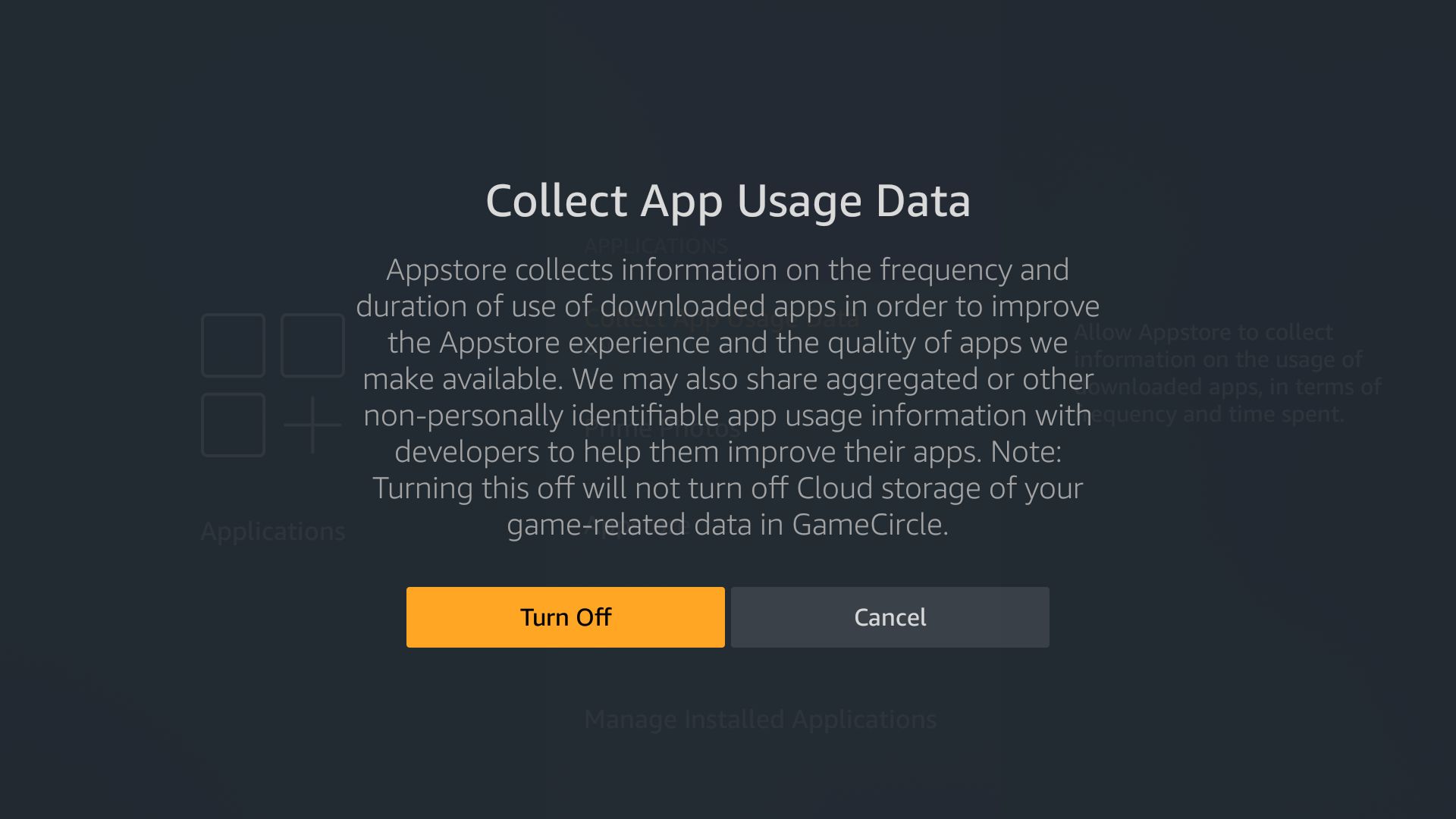 Then Go back one step, and go to the Device option.
From the Device option, Go to Developer options, and turn on both ADB Debugging and Apps from Unknown sources. We need to enable both of them to sideload KODI on FireStick.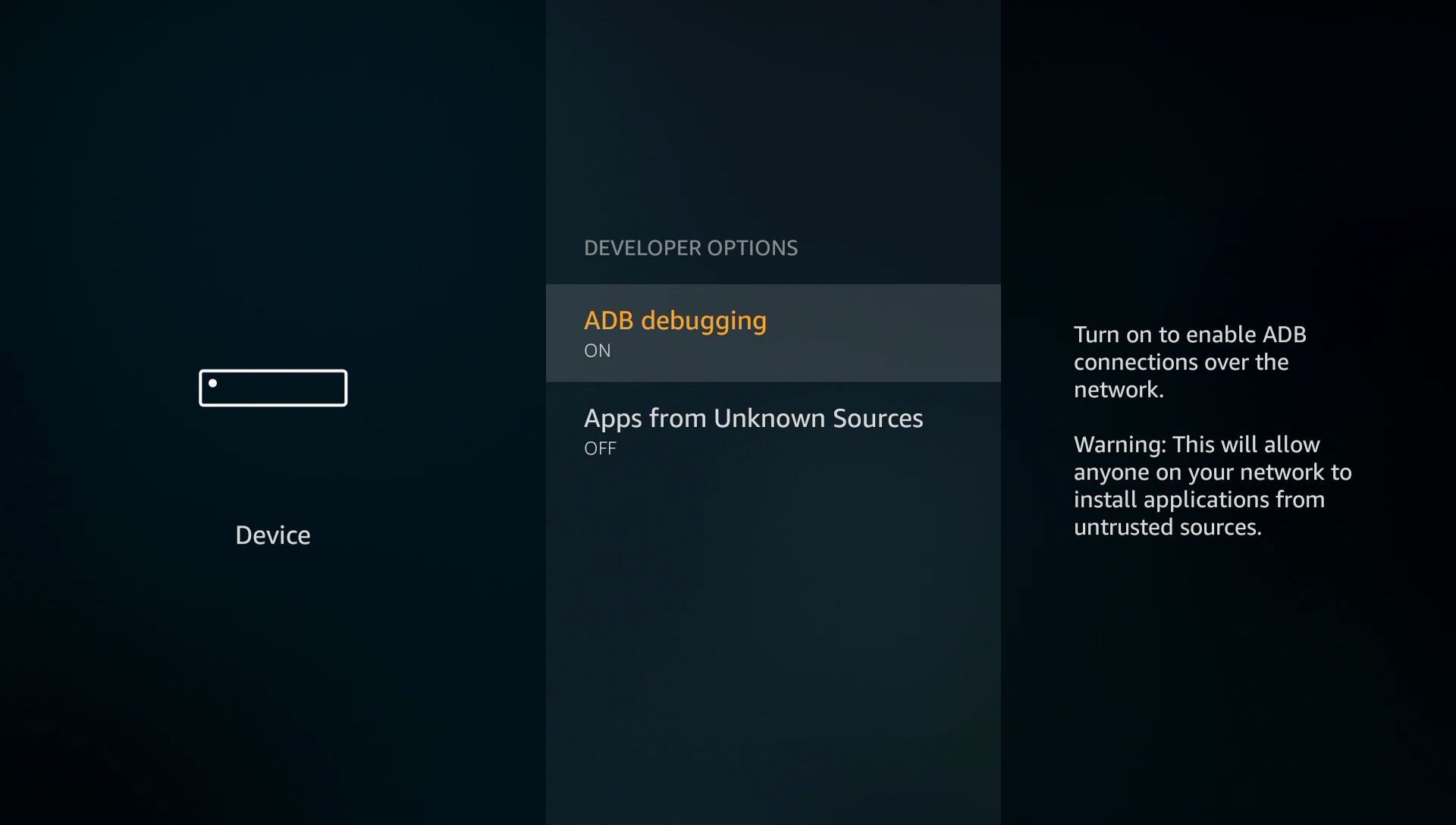 Finally go to the About menu, then go to Network Option. Note the IP address from there.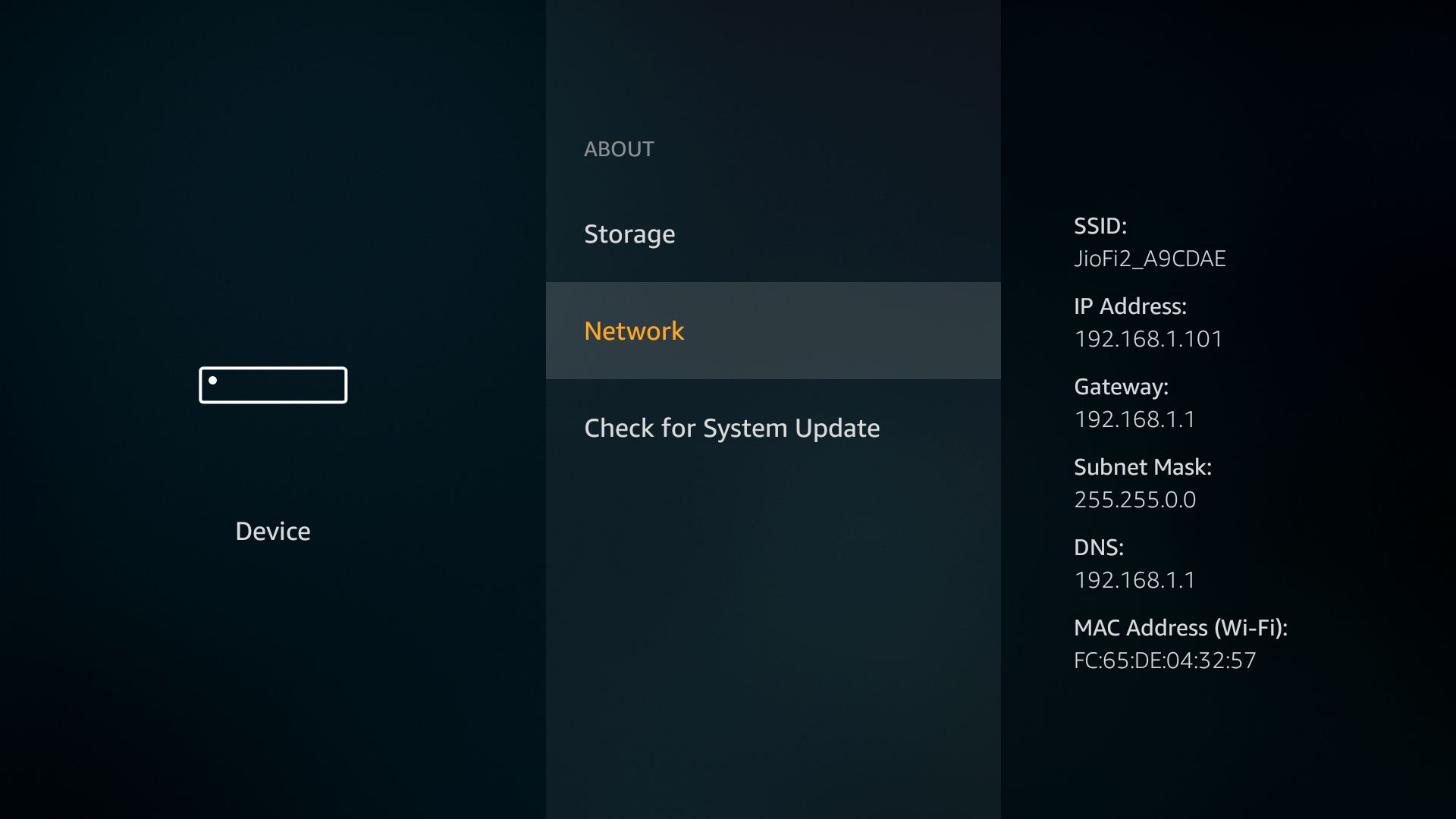 That's all you need to do on the Fire TV Stick, won't take more than 1 minute.
Download KODI from official site
This step is to be done on a PC, running any operating system.
Amazon's Fire TV Stick runs FireOS, which is based on Android. So, we need to download the KODI apk file to install it.
KODI is not available on Amazon's app store, download the latest stable release from the official site.
Here's the direct download link, http://mirrors.kodi.tv/releases/android/arm/kodi-17.6-Krypton-armeabi-v7a.apk
The CPU of FireStick is a 32 bit ARM processor, hence we've to download the ARMv7A build of KODI.
Install ADB tools on PC
This step is optional, if you already have adb installed, then skip this step.
Install adb on Windows
First get only adb and fastboot minimal files for Windows from Google.
Unzip that archive, go to the unzipped folder. Then Press the Shift key, and you should be able to open up a Power shell windows there.
On Windows, installing the adb command line tool is a bit painful. Either you need to download the whole Android SDK or use any of the minimal adb installation method as mentioned here.
Install adb on macOS
If you're a bit comfortable with the Mac OS Terminal, then it's very easy.
First download the adb and fastboot binaries.
wget -c https://github.com/simmac/minimal_adb_fastboot/archive/master.zip
Then unzip the archive,
unzip minimal_adb_fastboot-master.zip
Finally install it by running the install.sh file.
cd minimal_adb_fastboot-master/
./install.sh
That's all, now you should be able to use adb command from the Terminal app.
Install adb on Linux
On Linux, it's very easy to install adb, specially if you're running Debian or any other Debian based distro like Ubuntu.
sudo apt-get update
sudo apt-get install android-tools-adb android-tools-fastboot
Sideload KODI on FireStick
Finally it's time to sideload KODI, first note exact the location(path) of KODI. Or if you're on Windows, copy the KODI apk file to the ADB folder.
At this point, the Fire TV Stick and your PC/laptop must be connected to the same network, and then can connect to each other.
First, check if they can connect to each other or not, use the ping command.
ping 

192.168.1.101
In my case 192.168.1.101 is the IP address of the FireStick, most probably it's different for you. Sometimes ping command may not work, if ICMP is disabled on the router, but that should not cause any problem.
Now, run the commands below one by one on Windows to install KODI via ADB on the FireStick.
adb.exe kill-server
adb.exe connect 192.168.101
adb.exe install kodi-17.6-Krypton-armeabi-v7a.apk
Note: Don't forget to change the IP address and the apk file name according to your, else it won't work.
This should take some time to transfer the apk file and install it, and you should get a Success message.
On Linux and macOS it's almost procedure to sideload kodi on firestick.
adb kill-server 
adb connect 192.168.101
adb install ~/Downloads/kodi-17.6-Krypton-armeabi-v7a.apk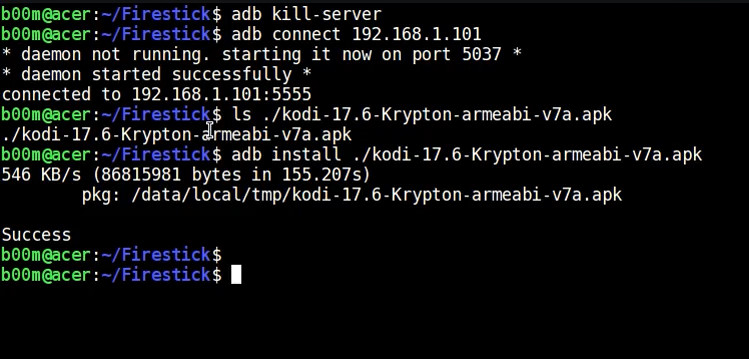 Here we're assuming that the apk file is located under the Downloads folder of the user, you may need to change that path too.
Launch KODI on Fire TV Stick
Back to the Fire TV Stick after completing the installation, long press the Home button

to launch the shortcuts.
Select the application from there, and navigate to the KODI application with the help of navigation ring of the remote.
KODI will take some time to launch for the first time, and you should be able to use it withing 1 minute.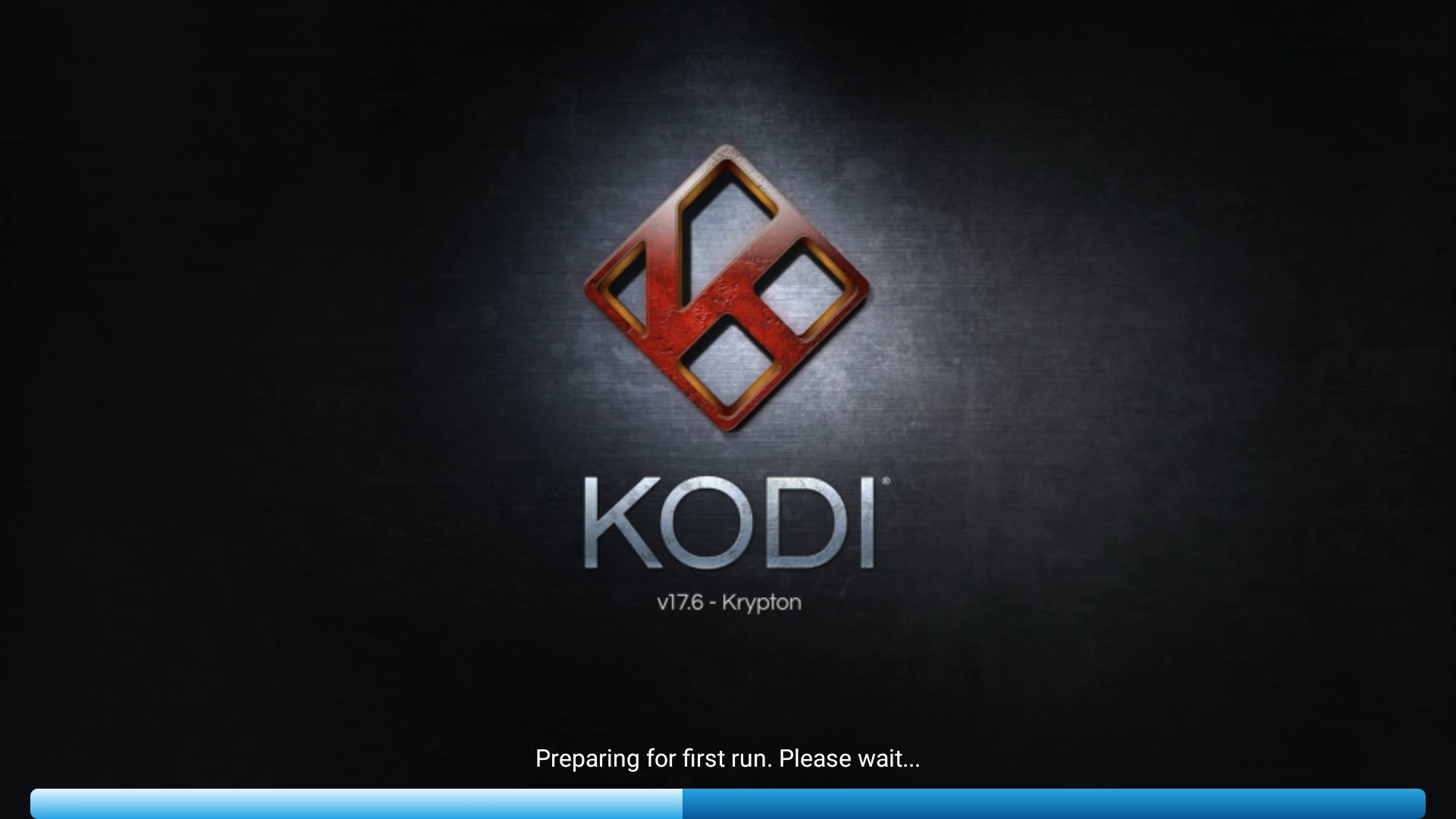 Conclusion
One question may arise, is it illegal to install KODI? I'll say no way, KODI is an open source software, and doesn't include any copyrighted content. Unless you use it to stream some seriously illicit content.
The Fire TV Stick you bough belongs to you, why you should not be not free to install whatever you want? Or smash it with a hammer?
Hope this guide about how to sideload KODI on FireStick is simple enough to understand. And of course I think it's one of the fastest method, however not the easiest.