As the name suggests, Remo Recover is a cross platform data recovery software for Windows and mac OS.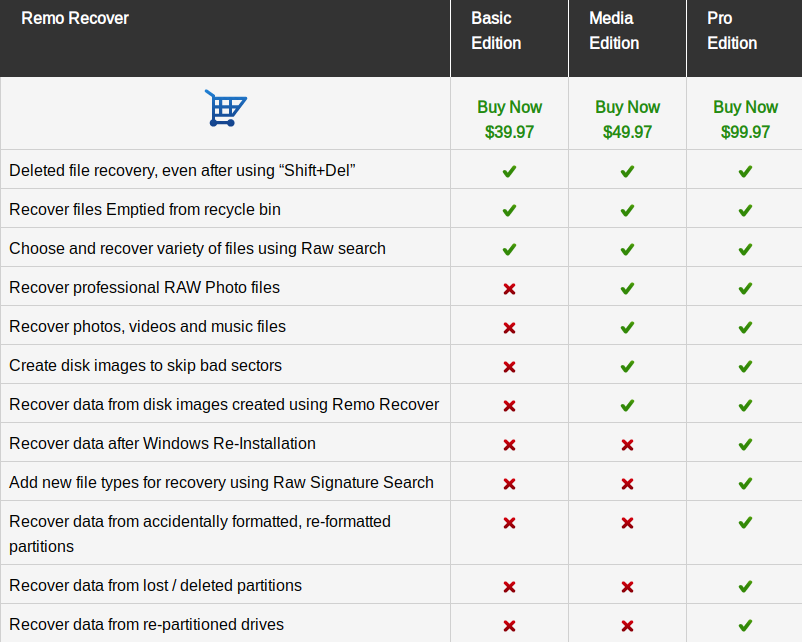 Here we'll go through this software on Windows platform to know about it's features and performance. Let's jump into the topic without further ado.
Remo Recover Features
The Remo Recover data recovery software has three different level of licensing model, each with different set of features. Some of the common features are listed below.
Recovery deleted files from almost any kind of media.
Recover files from emptied recycle bin on Windows.
Also possible to recover files from formatted hard drive partition or USB drive.
No matter what is the storage technology, It's SSD, HDD or Flash drives, Remo recover works perfectly.
Find and filter options for easier specialized file type recovery process.
Create disk images to skip bad sectors, very useful when a hard drive crashed.
So, in short, it's a almost complete data recovery software with lots of features. Specific type of data recovery process becomes even easier with the advanced search and file type filter functions.
Installing Remo Recover
The installation process is as easy as installing any other software on Windows. Just download the proper installer file, then just double click over it and follow the instructions.
After going through the installation process, you'll be asked to launch the software directly and send some anonymous usage data to the developers. You can opt in or not according to your choice.
It's better to launch the software right after installing and get a licence key online. Here you can get the key.
Using Remo Recover to recover data
First you've to launch the software, you can use either the shortcut icon on Desktop or use the app launcher shortcut.
The intuitive modern interface is very easy to use and understand. You've the option to either deleted files from a specific location or recover an entire partition.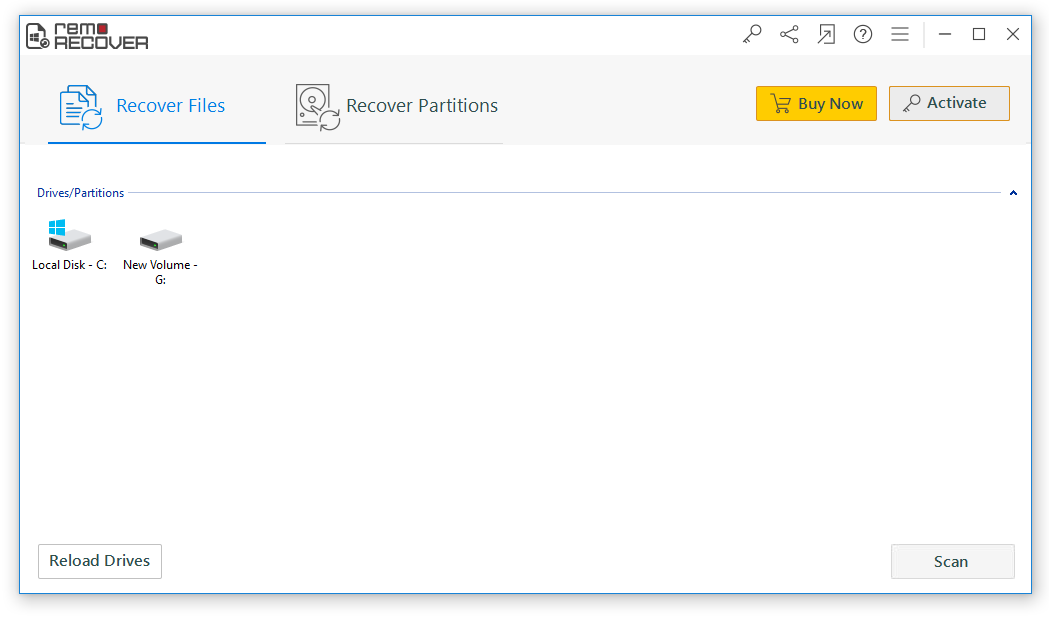 Whatever option you've chosen, make sure that your deleted data resides on the drive you've chosen.
Try AmazonPrime for free
Enjoy free shipping and One-Day delivery, cancel any time.
After that, just hit the Scan button on the bottom right cornet. The quick scan process is pretty fast, won't take a long.
Once the scan is complete, you can see the list of lost data on the software's user interface, marked by a red colored cross sign. Somewhat like below.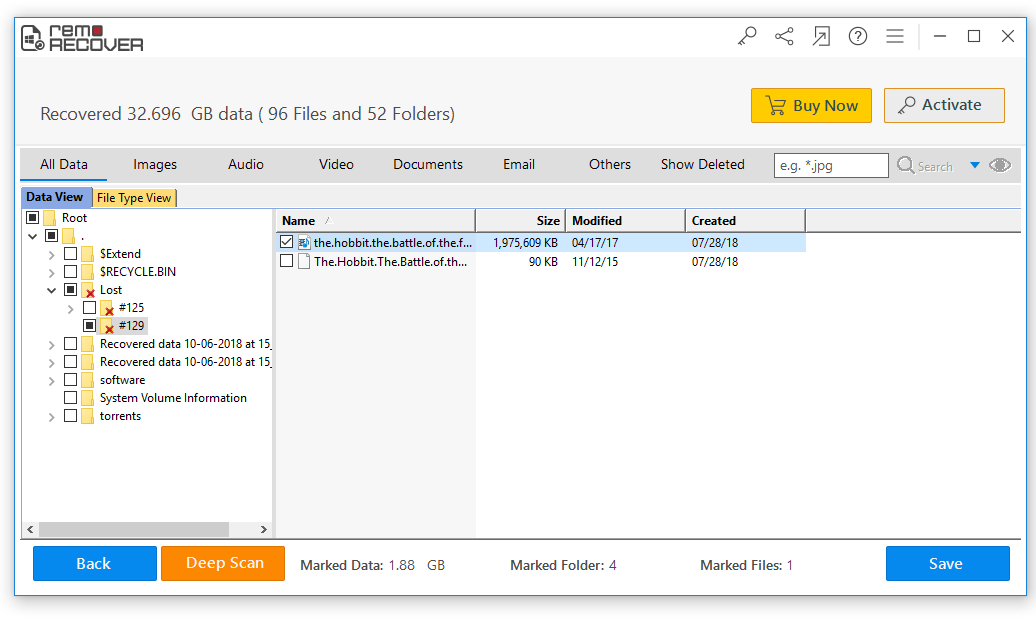 Here you can short different type of data and even search for a specific file using the search box.
Now select the proper file or folder you want to recover, and just click over the Save button the the bottom right corner.
Note: Before actually saving any file, make sure that you're not saving the recovered data inside the exact same drive or partition to increase chance of recovery. This is not just a note, it's important.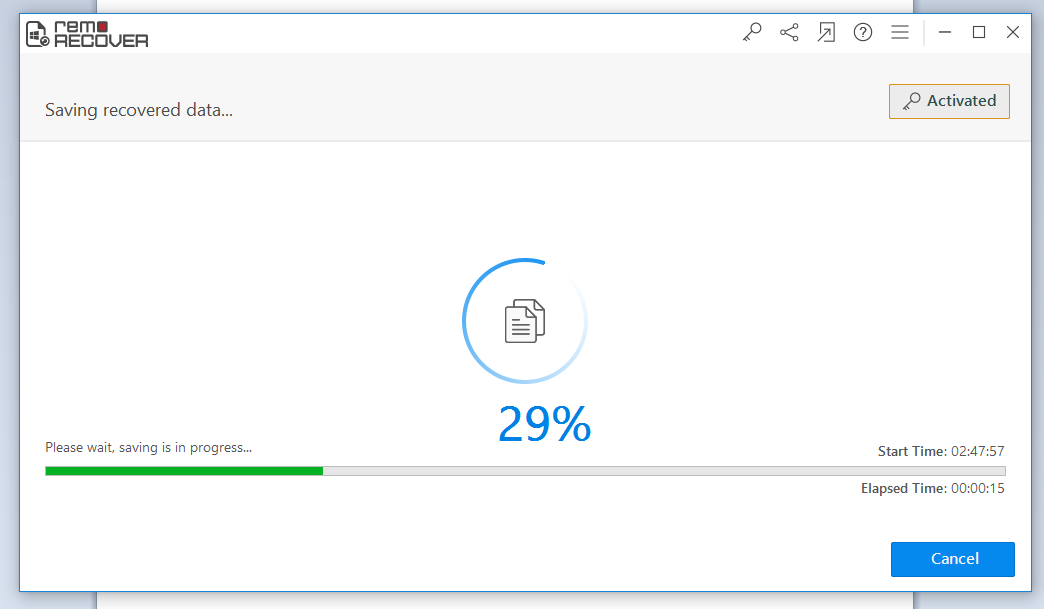 The recovery process looks like above, the time will be proportional to the file size and hard drive speed.
Remo Recover review
Finally the million dollar question, does it actually work?
The answer is a big YES according to my rigorous test. I've tested it few times by formatting a USB drive and intentionally deleting some files. Each one of them was recovered successfully.
However there's a catch, if too much amount of data was written on the particular drive, the chances of recovery is significantly lower.
But the chances of recovering freshly deleted data, or if the disk partition is barely used after deleting, the chance is pretty high, let's say at least 99%.
Conclusion
Software like as Remo Recover for Windows comes with options that let you restore data from formatted hard drive or failing hard drive and maximizes the chance of hard drive data recovery of your crucial data at much faster speed.
Hope this was a sensible review of the Remo Recovery. I'd say if recovering your data is crucial, you could give this recovery software a try. Though it's not perfect, but it definitely deserves a try.