With the increased use of wireless devices, the risk of hacking by digital predators has also amplified. This also includes devices as innocent as the baby monitors. Yes, it is true that your baby monitor can get hacked especially if it is a WiFi baby monitor.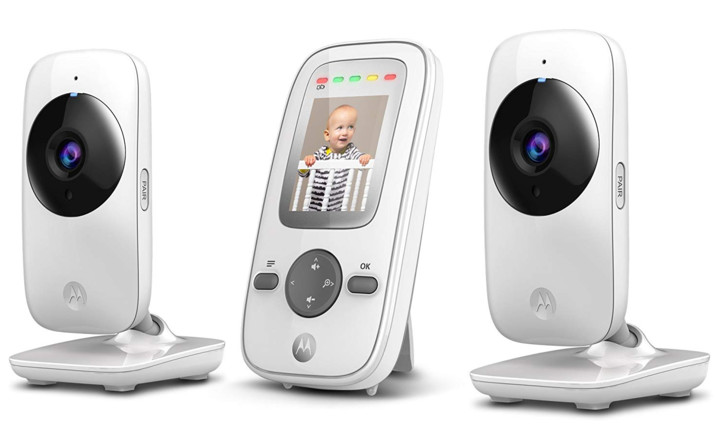 Despite your baby monitor being susceptible to hacking, it does not mean that you should stop using it and get rid of it. Our associates at 10babythings.com have come up with ways through which parents can easily make it safer to use.
Can Your Baby Monitor Get Hacked Into?
With the boost in the use of wireless devices, it has become quite a common thing for the hackers to spot the flaws in the security system of the baby monitor and reverse it turn it into a spy-cam. Basically anything connected to internet is susceptible to various kind of hacking.
The research was also conducted by some security experts as a result of which a conclusion was drawn in which they pointed out the poor security system in some baby monitors as a culprit behind their hacking.
It is not necessary that the problem is always going to be with the device itself but hacking is also possible if the baby monitor is connected to a smartphone via the online portal. As anyone could access the portal with a random ID and can gain access to the live-stream via the baby monitor.
Risk Associated with a Hacked Baby Monitor
An unprotected baby monitor is like your house's door left wide open and just like thieves, the hackers in the case of the baby monitor are able to access the videos and audio of your house and with that, they can rob you while also emotionally stressing your family.
Tips to Keep Your Baby Monitor Safe from Getting Hacked
Our associates from 10babythings have put together some tips for you through which you can prevent your baby monitor from getting hacked into.
Update the Baby Monitor Software Regularly.
The first step to securing your baby monitor is to update your baby monitor software, device firmware and applications on a regular basis.
This is one way to protect yourself against a potential security glitch that could expose your baby monitor to hacking. You should also never let your computer and other local networks connected to your infant baby monitor be vulnerable to hacking by updating them timely as well in order to have the latest security system installed.
If your baby monitor's manufacturer has not come up with an update for while then this could be a sign that your baby monitor is not safe and that you should not be using it.
Make sure to ask your baby monitor manufacturer if they want you to register your monitor online so that you can receive the update timely.
Create a Customized User ID and Password
The second most crucial thing is to change the default User ID and password on your baby monitor because the first thing that any hacker will try to do is test the default user ID and password. If you change both of these things then this will further complicate hacking your baby monitor.
Another clever thing is that you can do is use different ID and passwords for all your devices or your personal accounts on social media. Using the same ID and password everywhere can be a technical vulnerability because due to this any hacker can get access to all your other accounts if they have figured out your password once.
You should use unique characters in your password that can be a combination of letters, characters, and numbers. Try to aim for a password that has minimum of 9 characters in it.
The same advice goes for your WIFI network that is if you have shared your password with guests than it is a good idea to change your password regularly. Because a hacker can get access to your password by hacking into that guest's phone.
Try to come up with a WIFI user ID wisely to not make it too easy for the hacker to identify your WIFI network.
Limit Remote Access
Majority of the baby monitors are hacked as they are accessed remotely through the internet. If this function is limited then the security of your baby monitor will stay intact and you will be indirectly upgrading your security level.
So, you shouldn't expose the baby monitor to the internet if it's not absolutely necessary.
As IPv6 offers unique IP address to every device and there's no NAT, may be your device is also exposed to the public internet via IPv6. So additionally you can disable IPv6 on the router or on your entire home network if not necessary.
Switch the Default Access Port of the Camera
In order to make the connection more secure between your online portal and the baby monitor, you should always begin by changing the default ID and password. But as a precautionary measure, you can go the extra mile by switching the default access port of the baby monitor's camera.
Keep An Out On Who Is Accessing Your Baby Monitor
You can check the unusual activity on your baby monitor through the help of online portals that let you view the connection history.
Using An Router With Wireless Encryption
The WiFi router technology over the past few years has improved significantly, which has made the system more secure. There are three data encryption methods that are used today namely WIFI Protected Access (WPA), Wired, Equivalency Protection (WEP) and WIFI Protected Access 2 (WPA2).
Out of the three options, WPA2 is the safest option that is available.
Disable UPnP and DDNS
If UPnP is disabled the hackers will not be able to access your baby monitor and with DDNS disabled, internet domain names will not be mapped to your public IP address.
Though disabling the UPnP can make your baby monitor more secure but it may at times interrupt the connection between your baby monitor and the application.
DDNS is only required when you need to access the baby monitor over the internet. This is convenient, however it's also a bad idea for average consumers with little technical understanding.
Conclusion
Nowadays cyber attacks are becoming very common especially through devices that are WIFI capable such as your baby monitor.
Taking adequate safety measures when purchasing a baby monitor as well as securing your wireless internet connections can help provide protection to you and your family from potential hacking of their devices.