We often need to transfer files, photos or documents to and from our phone to PC or Mac.
When an Android phone is connected via USB cable to a PC, you can mount it as an MTP device to transfer files.
However the default MTP functionalities are very limited in Mac OS, so the connected Android phone could not transfer all types of data. And in many cases, it's only unidirectional data transfer.
You can install the official Android file transfer app, but it also has it's own set of limitations and bugs.
So in such case, other solutions like MacDroid comes handy, and here's how to use this application and a detailed review.
Features of MacDroid
Bidirectional Android file transfer for Mac, via MTP protocol or connection through ADB.
Mount multiple devices simultaneously, transfer data to and from any device to your mac anytime.
Mount both the Android internal storage or the microSD card.
Directly edit files without transferring them to the Mac device.
Cut-Copy-Move entire folders, not limited to just specific files.
Installing the MacDroid application
As any other Mac OS applications, installing the MacDroid i just few clicks away.
Go to the official site, https://www.macdroid.app/ , download free version with a fully working pro trial for 7 days. It's a dmg file, after the download process is completed, double click on the downloaded file to install it on your system.
Using the MacDroid App
With it's easy to understand and intuitive user interface, using the application is fairly simple.
After installation, open up the software and select the MTP mode.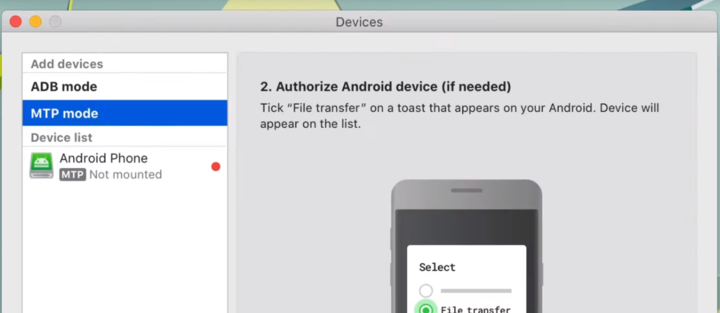 Then connect the Android phone via a USB cable to the Mac. The phone should be charging, and selct the transfer files option by dragging the top bar down.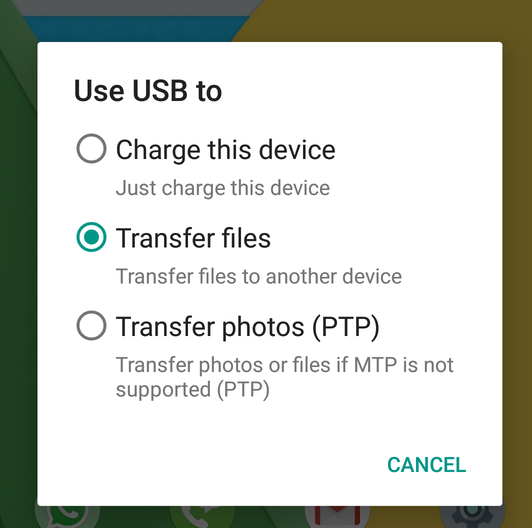 The phone may ask to authorize the file transfer, in that case tap yes.
After that select the Android device and click Mount on the right side panel.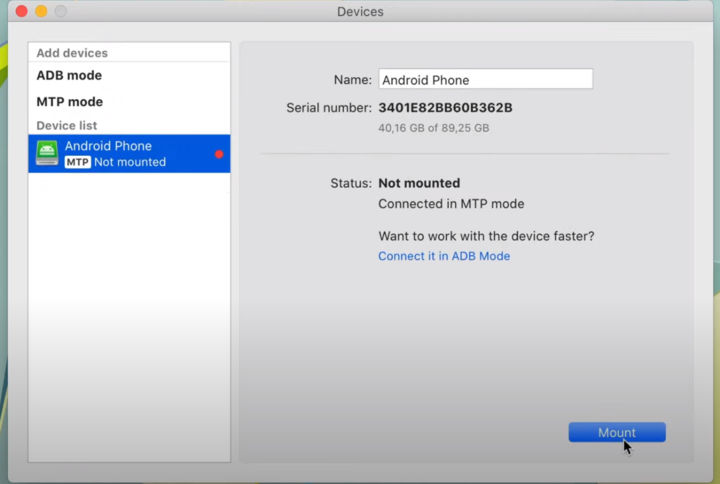 Now the phones's internal memory and SD card should show up in the Finder app.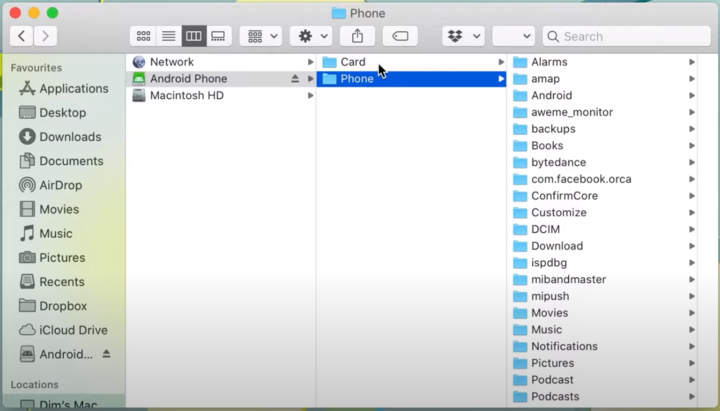 At this stage, you can browse or edit the files of the Android device, it's as easy as this.
As an example, to transfer photos from Android to Mac , just browse the DCIM > Camera folder of your phone using the MacDroid application.
If you still have some doubt, here's an video tutorial.
File transfer in ADB mode
The ADB mode is little different, and of course you need to enable ADB on android device first.
The process is exactly similar to how you access your android phone via ADB, in this case the hard part as automatically taken care by the MacDroid app.
After connecting the Android device to your Mac, the phone may prompt you to allow ADB connection to a new device, your Mac in this case, check the Always allow this computer box and click OK to setup the ADB connection.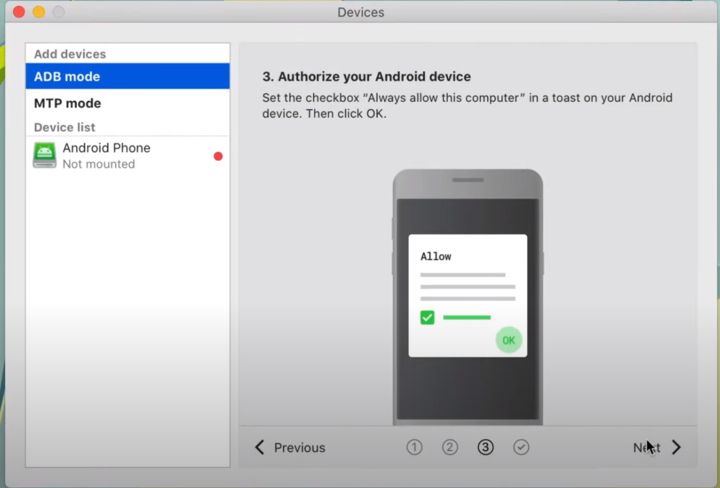 Now select the device and click on the Mount button, you should be able to access the device on the Files or Finder App.
The connection over ADB offers some unique advantages, and if you're a bit tech savvy, it's much preferable to use the ADB mode connection.
Another video tutorial,
Pros and Cons
MacDroid is an basically application for bi-directional data transfer content between the Mac and MTP devices, allowing you to access its contents directly in Finder.
But in my opinion the connection over ADB is a special feature, this combo is not available with any other third party solution.
Pros -
Easy to use and clean interface.
Works flawlessly, no bugs.
Bi-directional data transfer, to and from Android devices.
Dual mode support, transfer over ADB and MTP.
Cons-
Only 7 days PRO trial period.
Yearly subscription instead of one time purchase.
Free alternatives available.
Pricing
You can download free trial of MacDroid from the official website, which includes 7 day trial period, all pro features enabled.
If you want to purchase a pro license, it costs 19.99 US $ per year, which is quite low to be honest, considering it's features.
Conclusion
MacDrod is more than just another file transfer application.
You can easily access the internal android files, create a manual backup, or easily transfer your precious photos and videos to a safe place. No doubt a very convenient tool for your daily need.
I hope this review/tutorial will give you some perspective about this amazing software, and will be helpful.