Collage art is more impressive than that of photo, without any doubt.
FotoJet Collage Maker is one of the most dedicated collage maker out there. FotoJet Collage Maker also has the online version, the Windows version and Mac version that seamlessly work on each platform and perform well.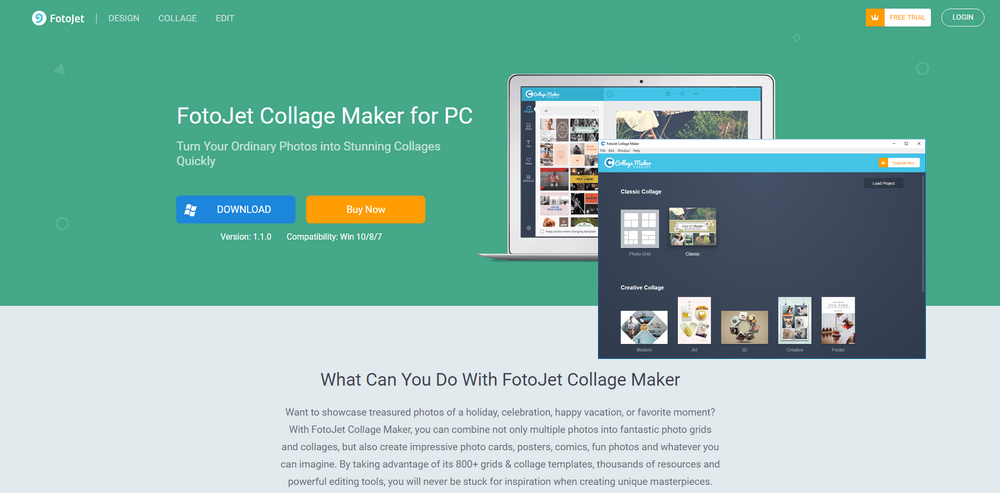 In this very review, we only focus on the review of FotoJet Collage Maker for Windows.
Supported Collages
Talking about collage templates from which it creates collages, FotoJet Collage Maker for Windows is thoughtful and prepares a lot.
All of them are well designed and categorized into understandable nodes. If you want to set the collage style and 100% DIY a collage, [Classic Collage] node is your option.
If you want to your collage work go art, then consider the Creative Collage. Modern, Art, 3D, Creative, or Poster, choose one and explore the rests! The [Misc] node, to our understanding of FotoJet Collage Maker for Windows, it means "the other collages" that are not belong to [Classic Collage] and [Creative Collage], where you can find photo card, comic, Fun photo (thinking April's Fool) and Frame photo. Each sub-node has resourceful, expansive choices. A lot of fun when exploring the collage ways!
Supported Photos from Computers, Facebook or Embedded Search
There are 4 sample photos in its Photo, select computer icon to upload photos from PC, or Facebook to use your social media photo. The exploring feature in [wired earth icon] is the door of millions of online free photos.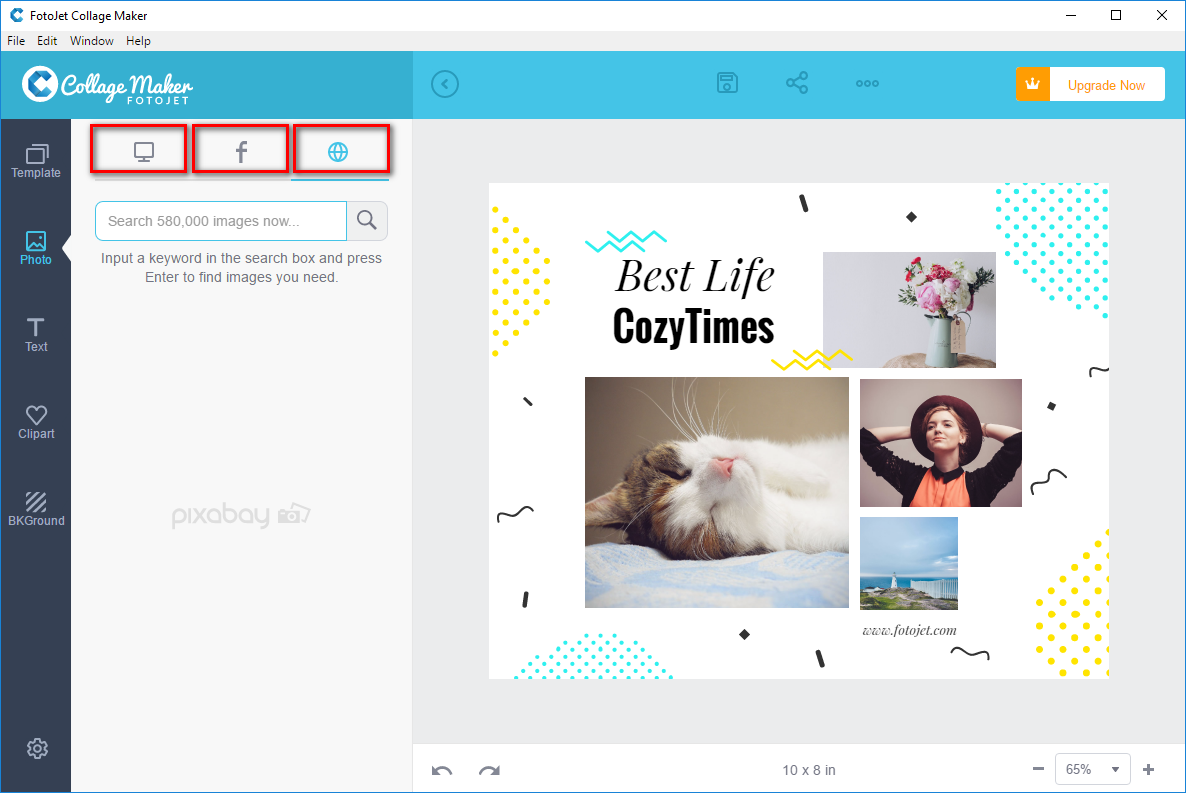 Supported Texts
FotoJet Collage Maker for Windows has 32 cool text styles to choose from. Once you've selected an text on the canvas, the font options are displayed: text font, text size, text bold style, the color of text. In Text Effect, you can set the Opacity, Outline and Glow.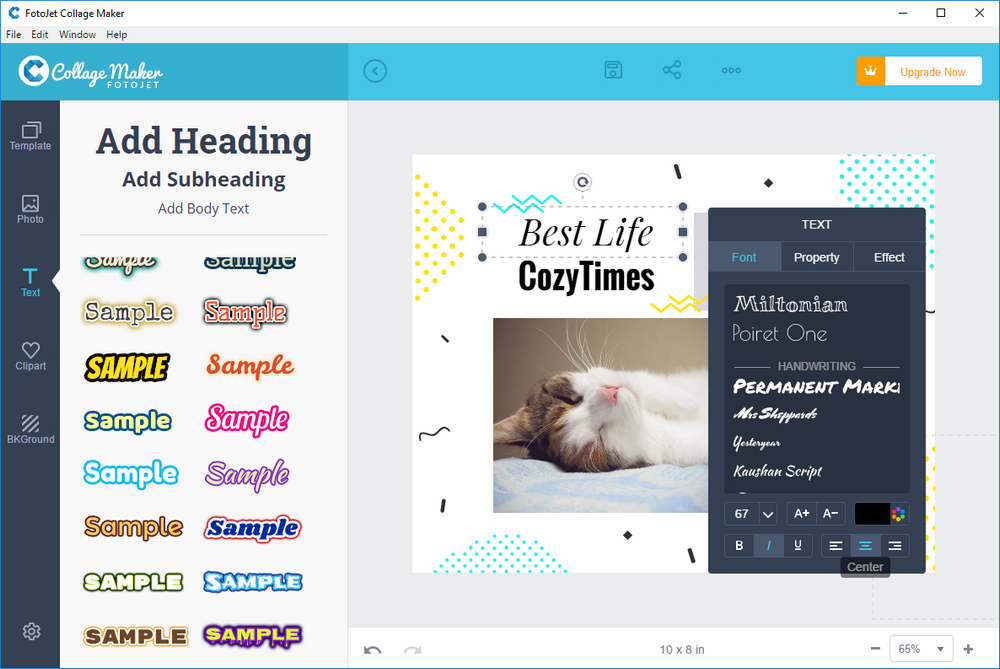 Supported Clipart
Hundreds of Cliparts are stored in different categories. Clipart is easy to find, to add, and to adjust to your liking. Likewise, a search box is left for some requirements for special needs.
Supported Backgrounds
Solid pure color, Gradient color and beautiful pre-made background are available for your background setting. A different background set a different color tone for the collage art, which reflects a mood.
Try AmazonPrime for free
Enjoy free shipping and One-Day delivery, cancel any time.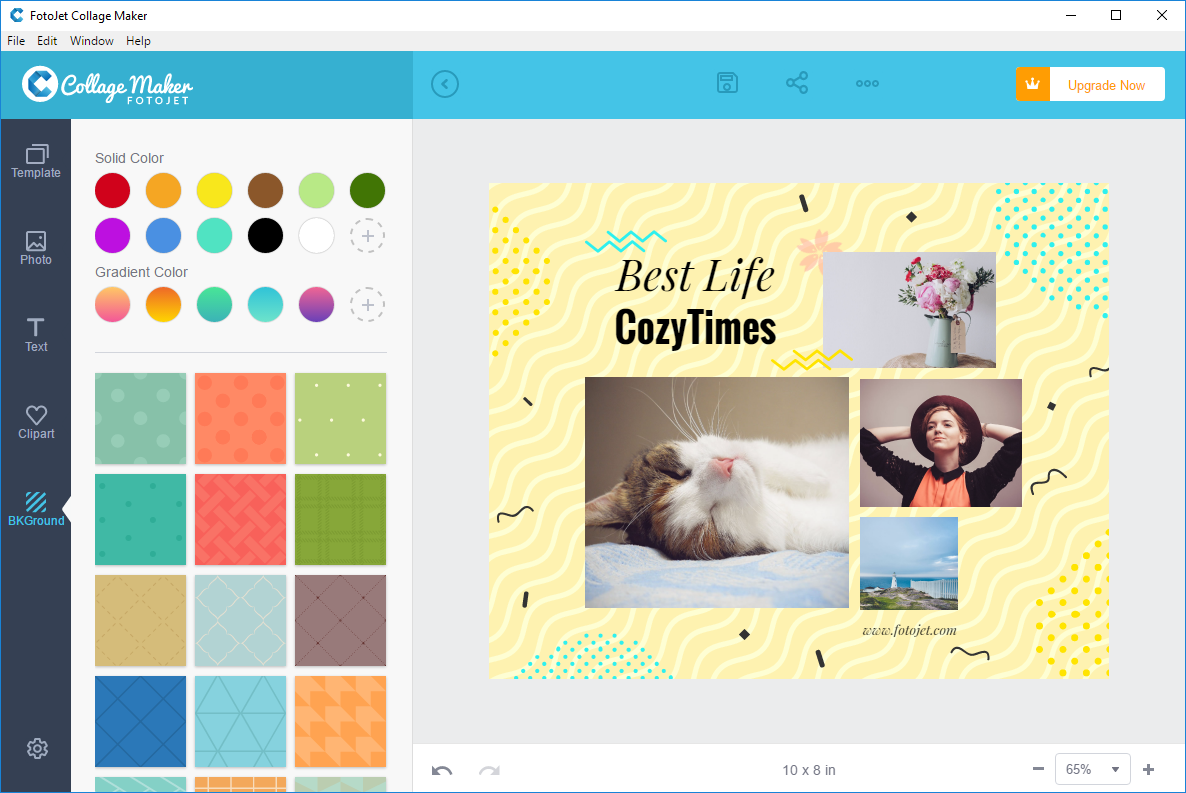 Support Fine Tune
FotoJet Collage Maker for Windows supports fine tuning the elements in the current project. Property or Effects, the layer, flip and rotate option, element layer and many more, you can easily find what you need to change.
Final Words
FotoJet Collage Maker for Windows sticks to WYSIWYG thinking. It's easy to find your elements and click it to use it in your collage. Collage design can never be simpler any more.